Looking For Alaska
For Fans Of: Copeland, The Dangerous Summer, The Starting Line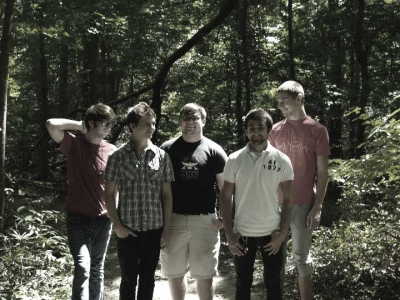 Lost In The Sound proudly presents 
Looking For Alaska
, an indie rock band from Memphis, Tennessee. Combining soaring instrumentals with accessible personal messages, Looking For Alaska draws comparisons with bands such as 
The Dangerous Summer
, 
Copeland
, and 
The Starting Line
. The band's debut EP, energetic and fun, hints at an extremely bright future for the band. Be sure to give it a listen.
Read more for a band biography, contact links, and a free download of their debut EP Everything We All Wish We Could Be.
Forming in the early months of 2009, Looking For Alaska is an indie rock band that planned to break the mold in the Memphis, TN music scene. Surrounded mostly by metal bands, Looking For Alaska began playing their brand of unique and accessible indie rock around the Memphis area. After going through several member changes, the band is finally at a state of stability and readiness to take on the world with their music. Including members Chad Turner (Vocals), Calvin Lauber (Lead Guitar), Joshua Cannon (Rhythm Guitar), Garrett Galtelli (Bass), and Chris Chamoun (Drums), the band mates and best friends have played all over TN and surrounding areas trying to make an impact on anyone willing to listen. In spring of 2010 Looking For Alaska began recording their debut self-produced EP "Everything We All Wish We Could Be", featuring catchy indie rock songs with themes that include saving friendships, bettering yourself, and finding God. The EP was released physically and on iTunes on August 17, 2010. Working with the non-profit organization Smith 7, Looking For Alaska has helped raise money for poor and needy families all over Memphis. Since then the band has already recorded two new self-recorded and produced demos and is writing their future full length album. With plans to tour as much as possible, Looking For Alaska hopes to reach out to anyone finding themselves in situations where all they need is a little hope to hold on to.
Download the band's EP Everything We All Wish We Could Be for free here. Support the band by purchasing the EP on iTunes here.
Looking For Alaska is:
Chad Turner – Vocals
Calvin Lauber – Guitar
Josh Cannon – Guitar
Garrett Galtelli – Bass
Chris Chamoun – Percussion
Myspace: http://myspace.com/lookingforalaskaband
Facebook: http://www.facebook.com/pages/Looking-For-Alaska/201389071857?ref=ts 
Twitter: http://www.twitter.com/Looking4Alaska
You might also like: