Bad Books – Bad Books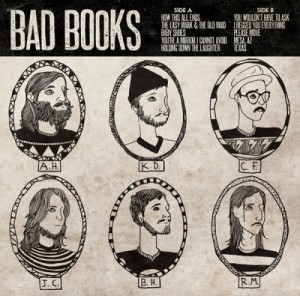 Released: October 19, 2010
Label: Favorite Gentlemen
Purchase: iTunes | Insound | Amazon
Bad books are bad. Bad trolls are bad. Bad Books is good, but just not good enough. Kevin Devine and Manchester Orchestra, both rising to prominence in the indie rock scene, combined with the blessing of Brand New's frontman Jesse Lacey, compose Bad Books. The highly anticipated brilliance of this combination (the idea certainly is very appealing on paper) ultimately fails to manifest itself on Bad Books's self-titled release. A supergroup in a rather superficial sense of the word, Bad Books is more of a Kevin Devine–Manchester Orchestra split EP than an amalgamation of the two.
Opener "How This All Ends" is a perfect example of this idea. As a Manchester Orchestra track, the opener is solid, bringing the emotional intensity and pop-infused hook that the band has been lauded for. But where is Kevin Devine? What makes this a Bad Books song and not a Manchester Orchestra song? For the most part, this is the main fault of the record; very little of the album demonstrates that it is in fact a collaborative side project rather than a split EP.
This doesn't hold true for all of the record, luckily. First single "You Wouldn't Have To Ask", although a mere 1 minutes and 52 seconds, superbly blends the voices of Kevin Devine and Andy Hull with forceful and lively instrumentals from the Manchester Orchestra crew. The hook is unabashedly catchy, providing a rather ephemeral glimpse at just how good a true Bad Books album could be. This single, sadly, is misrepresentative of the entire record, with the record lulling back into the rather dull (but still impassioned!) acoustic Andy Hull track "I Begged You Everything".
Although the record is an overall enjoyable listen, the album fails to entice like a Manchester Orchestra record or a Kevin Devine solo album. This, ultimately, is a huge disappointment, as the talents of the two sides of the "supergroup" seem to have been put to waste, creating a rather mediocre album. When the band does shine however (make sure you listen to "You Wouldn't Have To Ask"), the results are incredible, but the record fails to impress as a whole, bringing passable melodies that fail to manifest into something that is ultimately different.
Download "You Wouldn't Have To Ask" from the group's label Favorite Gentlemen here.
6.8
Standout Tracks: "You Wouldn't Have To Ask" and "Baby Shoes"
You might also like: