Kid Cudi – Man On The Moon II: The Legend of Mr. Rager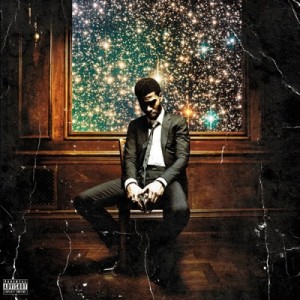 Released: October 9, 2010
Label: Motown, G.O.O.D. Music
Purchase: iTunes | Insound | Amazon
It isn't everyday that you're invited into the world of a superstar. It isn't everyday that an artist unabashedly opens up about their recent struggles, especially those that are attempting to cope with fame and superstardom. And most of the time, even if said artist does choose to open up, it isn't everyday that we can relate. Those that somehow bridge the gap between superstardom and ordinary life are the ones that succeed. In light of Scott Mescudi's (aka Kid Cudi) recent personal struggles, such a feat seems utterly impossible. Keep in mind that this is the same man who on his debut CD bragged about his "ignorance to coke", and then in an abrupt turn of events, was arrested for possession of cocaine.
It's obvious to assume that MOTM II: The Legend of Mr. Rager would be Cudi's darkest work yet. MOTM I: The End of Day, an album that was supposedly focused on his dreams, was highly introspective, focusing on Cudi's growing loneliness and inability to really fit in with his peers. The same ideas are as visible as ever onThe Legend of Mr. Rager, but must be observed in a different perspective. Mescudi is no longer the same young, struggling hero depicted in The End of Day, but he's as lonely as ever and this time, he is the fallen hero: dejected, but with a fiery passion to climb back to the top.
Album opener "Scott Mescudi Vs. The World" begins with Cudi's ominous, yet welcoming greeting: "Hello, how is everyone doing?" The opening track, benefiting greatly from the Cee-Lo Green hook, offers a peek into Cudi's life, with Cee-Lo belting, "This is a journey into the horizon; hope you can see that, if its real to you, we can meet on the other side." On "REVOFEV", Mescudi presents a gloomy, yet ultimately friendly "revolution", with the portentous strings and guitar looming in the background.
On tracks "Marijuana" and "Ashin' Kusher", Kid Cudi deftly explores his compulsive drug issues, jauntily proclaiming that he needs to balance all the craziness that is happening inside his head. The honesty that has been apparent since A Kid Named Cudi manifests itself again, showing exactly why Cudi has been so successful in such a short period of time: his blatant honesty allows him to connect with his listeners. "The darkness, yeah, I'd like to marry it," raps Cudi on standout track "Maniac", where guest feature Cage joins in and plays a psychotic, maniacal fool. Cudi's high-pitched confession "I am a maniac" eerily looms in the midst of a psychedelic guitar blare and a St. Vincent sample.
"When will the fantasy end? When will the heaven begin?" Cudi desperately questions himself and his self-created Mr. Rager character. With everything that has gone wrong in Cudi's life, these questions are genuinely sincere and embody Cudi's thoughts and worries. Even as Mary J. Blige assures, "Don't you worry," it seems all hope is lost for the downcast Scott Mescudi, who ultimately comes to the sad conclusion that "All along, I guess I'm meant to be alone" on the stylistically different, but ultimately brilliant "All Alone".
MOTM II: The Legend of Mr. Rager provides an engrossing and brilliant glimpse into the struggles of Scott Mescudi, showing that the young star is indeed "on the moon." While it is true that Cudi seemingly mumbles through some of his verses, his message shines through loud and clear. While the low-key and gloomy atmosphere may put off fans of Cudi's more catchy works, the menacing, introspective manner of MOTM IIserves its purpose perfectly.
9.0
Standout Tracks: "Maniac (feat. Cage & St. Vincent)", "Mr. Rager" and "All Alone"
You might also like: