J. Cole – Friday Night Lights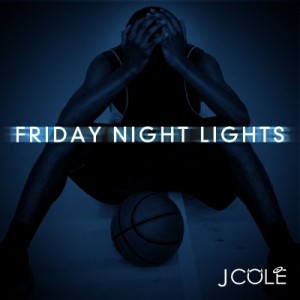 Released: November 12, 2010
Label: Roc Nation
"So here we are…"
Here we are, indeed. Say hello to the third mixtape from North Carolina's J. Cole, approved by Hova himself. With his debut album scheduled for a 2011 release, it certainly is Cole's time to shine. This is "his moment": his chance to achieve the success that is the subject of almost every one of his songs.
If you aren't already familiar with J. Cole's life story, Friday Night Lights can certainly fill you in. Like the TV show of the same name, the mixtape focuses on the struggles of small-town folk struggling in the larger world; in this case, Cole's poverty growing up in Fayetteville, North Carolina and his transition to the world stage as a rapper. Cole, who graduated from St. John's University magna cum laude, is a deep-thinking, well-educated lyricist, taking nothing for granted. It is obvious Cole works extremely hard for everything in his life and he does everything in his power to force you to realize that.
Keeping that in mind, Friday Night Lights contains nothing inherently new in terms of Cole's choice of subject matter. This, however, also means that Cole is doing what he does best: rapping about himself, his dedication to the "game", and his rise from obscurity and small town North Carolina. Complimented by the bright, twinkling piano lines of the mixtape, J. Cole spits smoothly and with modest self-confidence.
Friday Night Lights features twenty tracks of rap in its most unadulterated form. Cole handles almost all of the production himself and only includes three rapping features, excluding Kanye West's G.O.O.D. Friday track "Looking For Trouble". The highly anticipated Drake collaboration, "In The Morning", is a solid showing from both young rappers, with both donning 'thoughtful loverboy' personas. J. Cole's girl is "summertime fine", while Drizzy's is "wintertime cold", but in the end, this makes no difference. Both are troubled by the same internal question that is plausible only because of their meteoric rises to stardom.
Is the mixtape fun? Sure, listen to the energetic "Higher". How about serious? Cole definitely has that taken care of. Coherent? Absolutely. Friday Night Lights is a great effort from Cole all around, showcasing both his lyrical and production talents, but still addressing all of the emotional issues that have become the 'bread-and-butter' of Cole's musical repertoire. If you're looking for the future of hip-hop, this is it.
Cole World, here we come.
8.6
Standout Tracks: "Before I'm Gone", "Higher", "In The Morning (feat. Drake)" and "Home For The Holidays"
You might also like: