Man Overboard – Real Talk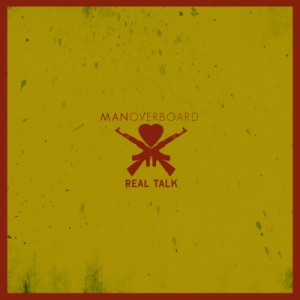 Released: July 20, 2010
Label: Run For Cover Records
Purchase: iTunes | Amazon
I'll be honest, I had no idea what to think about four-piece, pop-punk outfit Man Overboard when I first heard their debut full-length album titled Real Talk. I don't know if it was the discreet use of auto-tune or the incredibly "cutsie" lyrics that nearly every song is contrived behind. But whatever reason forced me to set this album aside for months on end was a silly mistake, as recently I've given this legitimately fun pop-punk album the rotations it deserves.
Opening is the title track of Real Talk, which is the one song that lasted with me before I gave the rest of the record a chance. Beginning an album with a huge bang, "Real Talk" hits hard, showcasing the dual vocals of Nik Bruzzese and Zac Eiesenstein in a glorious, truly raw style that left me, as a huge pop-punk fan, salivating to see what came next. Upon first listen I was very disappointed when I heard the rest of the album after my ears witnessed such a stellar opener, but months after my first spin, I'm glad I gave this album one last chance. The addicting drums of then-drummer Justin Collier on "Fantasy Girl" and the huge sing-along outro to "Parting Gift" had left me itching my head in amazement. How I ever shelved this gem of a pop-punk album is beyond me, but once again, I was floored that I decided to give Real Talk a second chance, and I hadn't even gotten to the meat of the record that is the latter half. "Al Sharpton" and "I Like You" show that Man Overboard know how to incorporate a catchy guitar line with an even catchier chorus, while acoustic driven "Sidekick" and the meaningful lyrics of "Septemberism" add a certain amount of depth to the previously somewhat one-dimensional album.
Though, this album has many major jams, it also falls victim to a common trend of what up-and-coming bands tend to offer with debut albums. The whiney vocals, accompanied by far too sugary sweet lyrics on "FM Dial Style" comes off as if Christofer Drew of NeverShoutNever had guest-written it, and re-released track, "Montrose" offers next to nothing. I would be undeniably satisified if one of these two tracks were scrapped during pre-production, leaving a perfect 11-track pop-punk summer rocker, but unfortunately, I can't control the track listing.
Man Overboard has proven that they are very capable of contributing quality music to the recently rejuvenated pop-punk scene with this near stellar debut. And with their recent surprise signing to Rise Records, I expect nothing but huge things in the future for this group of young guys from South Jersey, which includes succeeding in their obvious goal to "defend pop-punk."
7.8
Standout Tracks: "Septemberism," "Al Sharpton," "Real Talk"
You might also like: