We recently had the chance to chat with Brendan Walter, guitarist of Valencia, discussing the band's new tour, their most recent album Dancing With a Ghost, their return to I Surrender, and their plans for the rest of the year. Check out the interview after the break.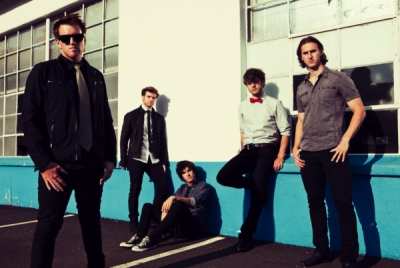 LitS: First off, how are you guys doing?
Valencia: We're doing great!
LitS: You guys just began a tour with A Rocket To The Moon, Anarbor, Runner Runner, and Go Radio. How excited are you?
Valencia: So excited. Everything has been going swimmingly and the shows have been insane (all sold our so far – 1 week in). We couldn't ask for a better tour.
LitS: Which shows are you looking forward to most on this tour?
Valencia: I'm really looking forward to the Anaheim show. Chain Reaction is always such a crazy place to play. Kids are just so excited to see and experience music there and all of the positive vibes really make for a good time.
LitS: You guys released Dancing With a Ghost last year. How has the response been for that?
Valencia: The response has been amazing. We put our heart and souls into that record and seeing kids go crazy to the songs at shows and requesting us to play them online and even getting tattoos of them really means so much to us.
LitS: For Dancing With a Ghost, you guys returned to I Surrender. What was it like to return to the label?
Valencia: It was awesome. It's like coming home. These people are our family and we love them. There's a mutual respect where we both want to work hard for each other which rules.
LitS: In just a few days, you guys are releasing a brand new B-Sides and Rarities album. Could you talk a little bit about that project?
Valencia: This project was kind of just a bit of D.I.Y. initiative and wanting to just get some new music out on a format that we've always wanted to explore. These are 2 songs that we wrote to be on Dancing With A Ghost. They just didn't fit in with the rest of the songs, but we truly love them and wanted people to hear them. Dan and I recorded and produced the songs, I designed the cover art and we just took it to the label and said 'Hey, can we put this tour" and they were all about it and really supportive and helpful in getting it out quickly and efficiently. I have one in my hand right now actually. It's really awesome to see a project like this come to life.
LitS: Which songs, if any, do you think could have made the cut for Dancing With a Ghost?
Valencia: We wrote about 75 songs for the record and any of them (in my opinion) were good enough, but the songs we chose kept a theme and a vibe that we were looking for in the record.
LitS: Have you already begun to record new material?
Valencia: We haven't recorded anything new but we are constantly writing. We have tons of new ideas and songs that we'll be demoing and working towards another release, I'm sure. No specific plans yet but we're always working and we always want people to hear new music and to stay active and creative.
LitS: What is your favorite aspect of touring and playing music for a living?
Valencia: Like I said in the last question we love to stay active and be creative at all times. This is the best job to keep your mind flowing and not just in one specific way. From thinking of new interesting ways to perform our songs to making videos to designing shirts and album art and of course writing songs, there is always something creative to be done. I could never be a desk job kind of person who has one task to perform and just does it like a monkey. It's awesome to see problems and try to solve them, keep improving yourself and your life on your own without anyone telling you what to do.
LitS: Once this tour is over, what are your plans? More touring?
Valencia: We'll be doing some shows over the summer, probably some international stuff and we'll be doing some writing and demoing as we always love to do.
LitS: Will there be more Band Vs. Food episodes? I know the fan reception to that has been pretty great.
Valencia: Kids are really digging it and we will definitely keep doing it. We're trying to figure out a cool spot to do one or two on this tour. We keep getting tons of suggestions as well. Another idea we had was to get the other bands involved and do a 'Band vs. Band vs. Band, etc vs. Food'…. we'll see how that goes.
LitS: Thanks for taking the time to talk to us. Is there anything else you would like to add?
Valencia: Thank YOU. I just want to tell people to come see a show and pick up our newest record and/or vinyl!
You might also like: