The Color Morale – My Devil In Your Eyes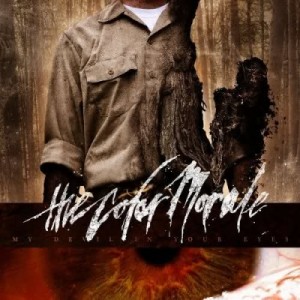 Released: March 8, 2011
Label: Rise Records
When we think of the more prominent names in the metalcore scene, we think of bands like Underoath, As I Lay Dying, and The Devil Wears Prada. Five-piece metalcore/post-hardcore group from Rockford, Illinois, The Color Morale, is definitely a name that does not comes to mind. As a part of the infamous Rise Records roster, The Color Morale has struggled to make a name for themselves and stick out amongst the plethora of similar band emerging, even with their debut record We All Have Demons displaying a step in the right direction for the band. With their second Rise release titled My Devil In Your Eyes, The Color Morale takes this established sound, and push it a little bit further.
As the low growls of Garret Rapp in opener "Nerve Endings" commences the album, Devil starts off on a rather dull note as the hectic screaming along with much unfavored chugging guitars plainly crawl along, and then transitioning into a rather predictable melodic song section. Devil stays true to this trend throughout the first frew tracks. Flat chugging accompanoied by monotonous screams and sudden shifts to melodic singing and guitar-work. "Human(s)being" resembles an awkward Bullet For My Valentine knock-off while the common structure and overall derivative sound of "Be Longing Always," makes for a rather tedious listen. It is not until track five that the album starts to pick up, and The Color Morale sport their true colors.
"Walkers" sets the pace for the rest of the album as the interesting guitar lines of Ramon Mendoza and John Bross entice the listener, and the charismatic vocal delivery of Rapp keeps the attention of more casual listeners. "Demon Teeth" unleashes a raw intensity and delivers a certain heaviness that The Color Morale are able of accomplishing while "This Lost Song is Yours" showcases well-developed melodies accompanied by a strong singing performance by Rapp. A strong mixture of intensity and resonance makes for a variety of enjoyable songs that makes up the latter half of this album, leading up to the soft, slow closer. "fill;avoid" ceases the album in a rather strange fashion as Rapp repeats the line "You made me from dust, and not dirt" over and over (and over and over and over) again. As calm programming backs the soft vocals all the way to the end, "fill;avoid," I believe, is aptly named as it adds nothing but filler, killing the mood of what was a momentous album.
In the end, The Color Morale still offers nothing new to the scene. But what they do accomplish is taking a sound that has been done to death numerous times, and altering it into something can not only be enjoyed, but appreciated. Something that you can't honestly say for most of The Color Morale's labelmates.
7.2
Standout Track: "Walkers"
You might also like: