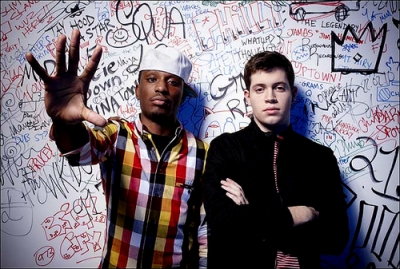 I had the opportunity to chat with Chidera "Chiddy" Anamege and Noah "
Xaphoon Jones
" Beresin, the duo behind rap group 
Chiddy Bang
. We discussed Chiddy's record-breaking freestyle for MTV.com, their new mixtape 
Peanut Butter & Swelly
, their upcoming (and highly anticipated!) debut album 
Breakfast
, and their involvement with Taco Bell's 
Feed The Beat
 Program. They'll be performing a concert in Philly next week for Taco Bell and for those of you who can't make it, you can catch the performance live on the Facebook page.
Check out the full interview below.
Chidera "Chiddy" Anamege: Yo yo yo what's up? How are you doing?
LitS: Good, how are you?
Chiddy: Good, good, just chilling in Orlando, Florida.
Noah "Xaphoon Jones" Beresin: Wassup?
LitS: First off, Chiddy, congratulations on your new world record. Nine hours is an incredibly long time. What was going through your head while you were freestyling?
Chiddy: What was going through my head was like, "Man, I hope I have the endurance to be able to successfully rap for nine hours." After the first hour, I was like man I could do this because I thought I had been rapping for maybe twenty minutes or so, but when I looked at the clock it had already been an hour, hour-fifteen. I was like, oh that went by kind of fast! Time pretty much flew by.
LitS: Why did you guys decide to do the freestyle in the first place?
Noah: I think it was actually our manager's idea, right?
Chiddy: Yeah, it was our manager's idea.
Noah: Our manager came up to Chiddy and was like, "Yo, you're gonna rap for nine hours. It's gonna happen."
Chiddy: And I was just like, "Okay, I mean, I can rap, you know what I'm saying?" I thought about it and was like it's a big achievement, you know, and I was thinking to myself, like I could actually have a Guinness Record. This was something I felt that although it was long and extremely strenuous, I did it.
LitS: So will your new mixtape Peanut Butter & Swelly feature songs from the album or will it be a completely separate release?
Noah: It's intended to be a separate release but if there are any songs on there that just take off, we'll probably put them on the album too.
LitS: When can we expect that mixtape to drop?
Noah: May 27th.
LitS: After Chiddy finished the freestyle, you guys performed "Manners". Why did you choose it to be the first single off of Breakfast?
Noah: Man, I think it's the catchiest. I think it's the one we have the biggest chance of knocking it out of the park with. When you work with a label, it has to be a give-and-take, you know. Your favorite songs may not be their favorite songs, but their favorite song is what they're going to push the hardest.
Chiddy: It's a game getting them excited and so, like he said, you gotta give or take, so.
Noah: They light up when we play "Manners" and that's the one we're gonna use.
LitS: Why did the name of the album change from The Swelly Life to Breakfast? Was that also a give-or-take thing?
Noah: No, that was totally us.
Chiddy: That was totally us, we were in the UK.
Noah: We needed a new idea to rally around, a new way to get inspired, and we started realizing that all these good things were happening to us… during breakfast. And then there's also a lot of double meanings.
Chiddy: And nobody can hate on breakfast.
Noah: Yeah, it's pretty universal – everybody loves breakfast. Often overlooked, always delicious.
Chiddy: And then it just felt like the right title for our first album, you know what I'm saying?
Noah: Also our crew is the Breakfast Music Family International – a record label, production company. So it kind of all came full circle.
LitS: Noah, you've used numerous samples in the past. Is this also true about Breakfast or are you doing more original production?
Noah: There is more original production, but still the majority of them are samples. I mean, that's what people have come to associate us with. There's definitely still some samples in there.
LitS: Can you say what samples you've used or is that out of the question?
Noah: I can't really say about the album, but for the mixtape, we sampled our friends The Knocks, we sampled this band called Walk The Moon, we sampled Morrissey from The Smiths. (laughs) Don't tell him though, he'll probably sue us.
LitS: Do you two listen to the same music? I hear you guys are both big Lil B fans.
Noah: We are! We are both fans of the Young Based God.
Chiddy: Based God.
Noah: We try and keep things positive like him. Our music… we definitely have our own styles of music that we listen to, but they definitely also overlap. We're both very big Dipset fans.
LitS: So who chooses what songs to sample? Chiddy, have you ever heard a song and then thought, "I need to rap over that"?
Chiddy: Yeah, all the time! For sure.
Noah: I think…
Chiddy: The Morrissey one.
Noah: Yeah, a lot of times Chiddy hears something and says "I need to rap on that." Most of the time, I make more beats than we use and then he just uses the ones that are attractive to him.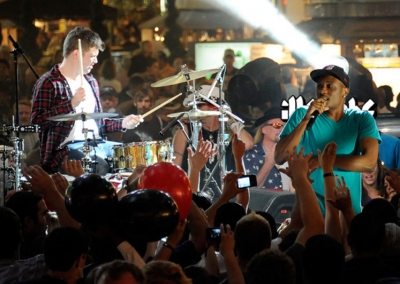 LitS:
 What are you guys most excited about for the next few months?
Noah: We just really want the album out, really man. That's been sitting over our heads for too long. We really just want to get it out and tours, obviously coming up, more musical collabs, more growing and learning and all kinds of good stuff. I guess the album is really it.
LitS: What are your plans after the album is released?
Chiddy: Tours to support it.
Noah: Support it. We're doing a lot of festivals this summer – we're doing Bonnaroo, we're doing ACL in July. Really, I think that after you put out your first album, that's the time when you kind of step back as an artist and examine where you're at. So there's going to be some of that and we just really need to… (laughs) I mean ourown album comes out. We'll get back to you after we put it out.
LitS: What kind of shows do you guys prefer? You mentioned that you'll be performing at Bonnaroo? Do you prefer the colleges, normal shows, festivals…?
Noah: Man, each of them have things that are awesome. Festivals are always a good time, you know, college shows are always fun. All of them are great, all of them for different reasons and we wouldn't want to stop for one specific kind.
LitS: Next week, you're doing a performance in Philly for Taco Bell. What's your favorite thing about performing for a hometown crowd?
Noah: The energy.
Chiddy: Yeah, the energy. We haven't had a Philly show in a minute, so you know, I wouldn't even have it any other way than coming back with Taco Bell. And a new mixtape in a sense. It'll be dope, it's going to be real intimate. The last Philly show we did was sold out and I don't know, like 1300 people there. That'll be super swagged out. They'll all really want to be there, you know?
LitS: So, just wondering, what's your favorite meal from Taco Bell?
Noah: Favorite meal? Seven layer burrito cause it's got a hell of a lot of rice and guacamole. I'm pretty healthy when it comes to fast food, but I don't give a shit. Ever.
LitS: And finally, a question from a hometown fan. Do you prefer Pat's or Geno's?
Noah: Man, it's crazy to me, like as a Philadelphian, I feel like it's the same thing with New York. If you're from New York, you don't really see the Statue of Liberty that much. Philadelphian people don't really get that many cheesesteaks and when they do, they get them, they get them from the trucks. I don't say get rid of the trucks, but I actually live like two blocks from Pat's and Geno's. I see that craziness all that day.
LitS: Alright, thanks for taking the time to speak to me. Do you guys have anything to add?
Chiddy: Aw man, mixtape May 27th. Peanut Butter & Swelly.
Noah: AND Swell. Thanks very much, man!
You might also like: