Tyler, The Creator – Goblin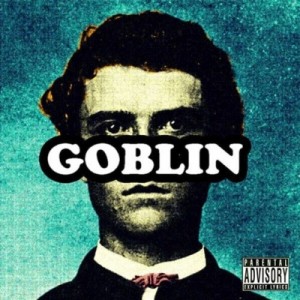 Released: May 10, 2011
Label: XL Recordings
Purchase: iTunes | Insound | Amazon
Fame is a rather unfortunate phenomenon, an idea that rapper Tyler, The Creator certainly understands. The past few months have been a whirlwind ride for Tyler and his Odd Future friends, from Tyler and Hodgy Beats's fear-inducing performance on Jimmy Fallon to the formation of the group's own Odd Future Records record label. Goblin, Tyler's first official release on a record label, has been surrounded by an incredible amount of hype, blowing up the blogosphere and getting Tyler, as he puts it on the first song, "cosigns from rappers that I don't even like." This hype and the young rapper's sudden exposure to fame undoubtedly affected the creative process Goblin, but is it for the better?
Unfortunately, no. Although Goblin features a much-improved Tyler – in terms of both lyricism and storytelling – the fame that Tyler is dealing with hinders the album and restricts his creativity, causing the album to fall well short of his first release, Bastard. Goblin, to put it simply, is weighed down by the burden of matching the massive hype and pressure surrounding it. In the days of Bastard, Tyler made music for himself, something he has stated in the past and again brings up on opening track "Goblin", but now, his music is no longer just for him; whether he likes it or not, he has become a sort of cult hero and his music is as much for them as it is for himself.
His fans aren't the only ones listening to his music, however. Because of his naturally dark subject material, Tyler is forced to qualify his lyrics, spending a large chunk of the album pointing out that his stories of killing and misbehavior are in fact stories. On "Radicals", Tyler opens with the lines "Don't do anything that I say in this song. It's [expletive] fiction. If anything happens, don't [expletive] blame me, white America." For all intents and purposes, Tyler can be compared to a young Eminem, albeit one who is way more apologetic.
Apologies, precautions, and qualifications aside, the lyricism on Goblin shows a natural progression from the days of The Odd Future Tape, Bastard, and even last year's Radical. He's still an angsty, obsessed teenager with numerous problems and his favorite target is still his missing father. The one problem, however, is how erratically hit-and-miss his lyrical style can be, leading to the inconsistency of the entire album, one of the main flaws of the album. Goblin contains a few very good songs, but also a handful of very bad ones.
When Tyler is on his A-game, he is, in fact, a "walking paradox." As Wolf Haley, he spins tales of misogyny, juxtaposing with Tyler's vulnerability in his personal search for love; Wolf Haley commands his "Wolf Gang" followers to revolt against everything, while Tyler worries that people may blame him for others' wrongdoings. The only problem is, cringe-worthy moments like the muddled "Radicals", the utterly boring "Fish", the swag-rap tribute "Bitch Suck Dick", and the incredibly tedious posse-cut "Window" weigh down the album, especially due to the album's length — 74 minutes of Tyler's minimal beats, variety of voices, and Dr. TC-framed-dialogue.
Goblin is essentially and fundamentally very similar to his first album Bastard, featuring Tyler discussing his life problems with his counselor Dr. TC. The production is also incredibly similar; Tyler's never been lavish with his beats, electing to take a minimal, jarring style similar to that of his idols The Neptunes. Unfortunately, his beats begin to bore as the album drags along, showing that Tyler still has plenty of room to grow. To put it simply, his other beats pale in comparison to the masterful, eerie beat of "Yonkers".
Goblin, in essence, is a strong effort by the nineteen-year-old rapper. He provides an ominous yet introspective look into his life, showing that he is not entirely as indestructible as he seems. While it may not have lived up to the hype, Tyler and Odd Future are still breaking new ground with Goblin, building a huge following of extremely dedicated and loyal fans who will no doubt eat this release up.
6.2
Standout Tracks: "Yonkers", "She (feat. Frank Ocean)", "Tron Cat", and "Golden"
You might also like: