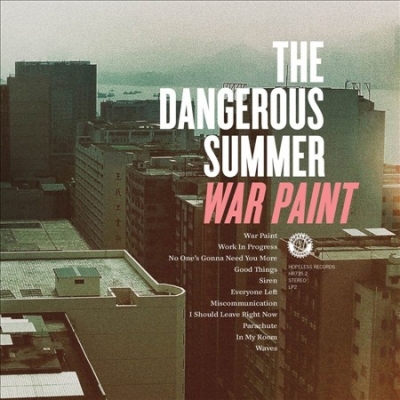 The Dangerous Summer
 will release their new album 
War Paint
 on July 19th via Hopeless Records. 
War Paint
 is the band's highly anticipated follow-up to 2009's 
Reach For The Sun
, also released via Hopeless Records. The album artwork is shown above and the tracklisting is below.
War Paint Tracklisting:
1. War Paint
2. Work In Progress
3. No One's Gonna Need You More
4. Good Things
5. Siren
6. Everyone Left
7. Miscommunication
8. I Should Leave Right Now
9. Parachute
10. In My Room
11. Waves
Below, you can watch AJ Perdomo and Cody Payne perform "No One's Gonna Need You More" acoustically for Ourzone Magazine. The band has reportedly been playing this song live at their recent shows and will be releasing videos for both "No One's Gonna Need You More" and "Work In Progress".
You might also like: