The Gallery – Come Alive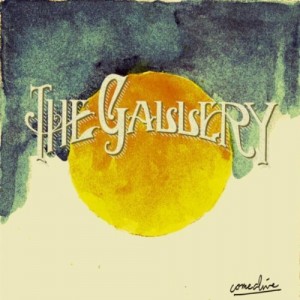 Released: February 22, 2011
Label: Unsigned
Purchase: iTunes | Amazon | Bandcamp
The Gallery is a band on the rise. Having built grassroots bases in their New England home and later in Florida, they embarked on a national tour in 2009 and have been more recently performing with bands such as The Maine and We the Kings. After a few spins of their EP Come Alive, you'll see that this brewing rise is well-deserved and you may just be inclined to hop on the bandwagon before there even is a bandwagon.
Just a few seconds into opener "Catalyst", listeners will likely catch one reason for the band's increasing popularity: it's not difficult when your biggest musical influences are already well-established within mainstream and indie circles. In a nutshell, they're Bruce Springsteen without the synths and saxes, The Hold Steadywith fewer keys and less of a bar-rock sound.
Getting through the rest of the song, listeners will see another reason: "Catalyst" is really good, perhaps even too good. Catchy hooks are a dime a dozen these days, but songs that combine these hooks with such simple, earnest lyrics are harder to come by. It's true that there are no deep insights, but lines like "This is a walk away / from those dirty little games you played. / I heard your sorrys, but I saw no change. / I gave you love, you gave me pain," when backed by such honest music and Brendan Cooney's hometown vocals packs a solid punch. It almost makes the rest of the EP struggle slightly to keep up in comparison, but it gives a valiant effort.
"Ballroom of Broken Hearts" slows down the tempo, but maintains the EP's pace. Vocally and lyrically, it leans more heavily on The Boss than any other track, telling the tale of a girl "unlucky in lust." It showcases their mature musicianship by effectively stripping down the first chorus, but doesn't rely on it for the other choruses, instead adopting a fuller sound becoming less wistful, adapting to the entire song's structural buildup. It's less likely to be heard on the radio than "Catalyst", but it is nonetheless good enough to prove that "Catalyst" wasn't a fluke.
Tackling a different lyrical theme is "Who's in the Right". On one level about a fighting couple, it undeniably speaks to our country's bigger conflicts as well with the simple observation "We'll drop bombs all day and night/ to show who's in the wrong and who's in the right." Even though it's an anti-war song to some extent, it doesn't fall on the trite clichés that today's bands loved during the Bush era (i.e. no mention of a "gas war" or "fighting daddy's battles"). Sincerity abound, it even feels close to The Avett Brothers. Unfortunately, the lyrics are stronger than the music, which relies too much on a bland guitar line.
The lightness of "Last Goodbye" serves as an excellent counter to the heaviness of its preceding track. The drum driven pre-chorus and explosive chorus are certainly engaging, but clocking in at close to five minutes, it runs slightly long.
Rounding out the EP is "Free," which is actually a bit of a letdown. For once, the music feels too generic and the lyrics are excessively sappy. Though not a terrible song, it's certainly a disappointment when compared to everything else before it. Not the best end, but it doesn't detract too much from the quality of the EP on the whole. It's not the deepest music you've ever heard, but it's a solid effort by a band that you should make a point to know.
8.4
Standout Tracks: "Catalyst" and "Ballroom of Broken Hearts"
You might also like: