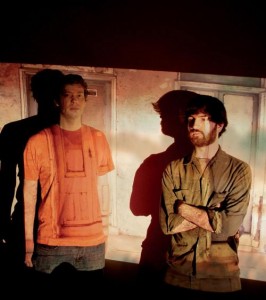 New Orleans ambient drone duo Belong showed up out of nowhere with the 2009 vinyl re-pressing of October Language, an album recorded in 2004 and previously released in 2006. A followup album (Common Era) was released earlier this year. Not bad for a group that's been around since 2002 and whose Allmusic bio refers to a followup album being due sometime in 2007.
Perhaps the glacial pace of Belong's release schedule has something to do with the glacial pace of the music itself. "Late Night", a Syd Barrett cover, coasts along at a beatless pace that redefines "languorous." (No. Really.)
lan guour ous (adj.) – dreamy: lacking spirit or liveliness; "a lackadaisical attempt"; "a languid mood"; "a languid wave of the hand"; "a hot languorous afternoon"
1. See: Belong – Late Night
2. See also: These guys, whose 1995 album A Stable Reference defined languorous up until sometime between 2006 and 2009 (depending on which version of October Language you picked up), at which point Belong stole the definition away in broad dusklight under the cover of the space between the notes..
3. See also also: Low, whose pace is so languorous that time slows perceptibly during live appearances, rendering analog clocks unusable and a number of their fans late for work.
It's a thing of gauzy, womblike beauty. The vocals fade in and out of the background (which is also the foreground, apparently). The track itself is something you experience more than you hear. It takes concentration to get everything out of it, but it's well worth the effort, especially as it heads towards a muted roaring crescendo. (I realize that phrase seems to make no sense whatsoever, but LISTEN TO THE TRACK.)
Now, if your interest is peaked, head right over to Google and search up a storm. Thanks to a pile of writeups from some influential music blogs, Belong's various pages have risen towards the top of the listings, resting comfortably between a stack of dictionaries. However, things haven't improved much on the image side. Google doesn't read minds (still in closed beta) so sorting by relevance is about as useful as sorting by dartboard.
Now, if you've decided to name your band after a common English word, you should know you're engaging in a uphill battle for SEO hearts and minds. Of course, you could just go another direction and claim popular profanities for yourself, thus ensuring that every venue will now have to invest in asterisks in order to display your edited band name on the marquee. See also: Fuck Buttons, Holy Fuck, Fucked Up, Fukkk Offf, That Fucking Tank, The Fucking Eagles, etc.
Back before they took off, there was no better way to see if you'd forgotten to turn Safesearch back on than aquick image search for Fuck Buttons. Of course, now that they've become one of the more prominent Fuck groups, the natural progression of organic SEO has filled the search results with images off two guys assaulting a table full of electronics, rather than various orifices being assaulted by various appendages.
But what if you're not as popular as the Fuck Buttons? What happens if your band name keeps unfortunate company, image-wise? Consider Nashville's finest (only?) drag/witch house group, Party Trash. If you're looking for some "relevance" from the image search, well… good luck. If you just needed an excuse to eyeballyoung party fiends in various states of disrepair/disrobement (now officially a word!), "Party Trash" is all you need to know. And that's with Safesearch on.
Speaking of witch house, what if you're knee deep in triangle cultists with names like GuMMy†Be▲R! andℑ⊇≥◊≤⊆ℜ and †‡† and other Unicode horrors? Bad news, surfers. Google has no idea what you're looking for.
So between the witch housers who don't want to be found, the drone rockers who like to hang with Merriam (and Webster –alternating Tuesdays) and the others who turn your office computer into an inadvertent Bacchanalian slide show, what's Mr/Mrs/Ms Internet to do?
Go to a trusted source. [Insert self-promotional link to website here.]
Oh, but before you go, take a listen to this track from Belong's latest LP, which shows the pair up to their old tricks, only faster, louder, harder and more melodic. If "Last Night" is a lullaby heard through a wall, "Perfect Life" is the daunting leap into a frigid, rushing river without ever escaping the noose.
You might also like: