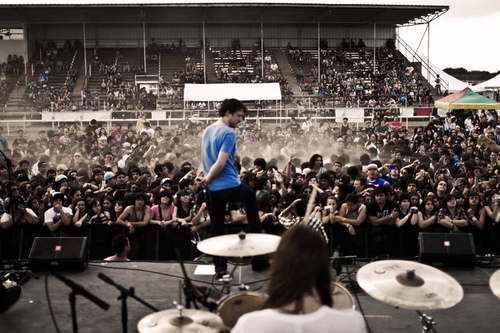 A couple of days ago, pictures of
Dance Gavin Dance
singer Jonny Craig abusing heroin surfaced online. There have been a number of drug-related controversies surrounding the young singer throughout his career: Craig was arrested last October for the possession of narcotics and other drug-related items, but was released on bail. However, he has been reported to have violated his parole conditions and is once again wanted by the authorities.
Many have speculated that Craig's band, Dance Gavin Dance, have removed the troubled singer from their line-up once again, due to plans to embark on a US tour without him. However, the band have released a statement confirming that Craig has not been kicked out.
"As some of you have heard today, Jonny Craig will not be doing the upcoming tour with Dance Gavin Dance. Jonny is very sick right now, and needs to do what he can to get better. Being on the road is no place for someone in his position right now. He needs to focus on fixing himself. He has NOT been kicked out of Dance Gavin Dance, but we cannot tour with him in the current state he is in. We still want to continue being productive and playing music that we have so much passion for, which is why we decided to continue with the tour without Jonny. We love Jonny and we hope that Jonny can do what he can to get better, because we have done everything that we can to try to get him clean.
For this upcoming tour with A lot Like Birds, we will be joined by Kurt Travis and Matt Geise to fill in on vocals. We will be doing something that we've never done before, and thats preforming songs from all 4 full-lengths. For the time being, keep your eyes peeled and your ears piqued for new Secret Band music! See you all out on the road and make sure to come up and say hi to us at the merch table!"
Both Travis and Geise have previously worked with the band. Travis had been the band's singer from 2007 to 2010, while Geise having been featured on the song "Rock Solid" off the band's self-titled record. Secret Band is a side project started by the members of Dance Gavin Dance (excluding Jonny Craig). So far, they have released one four-track EP.
You might also like: