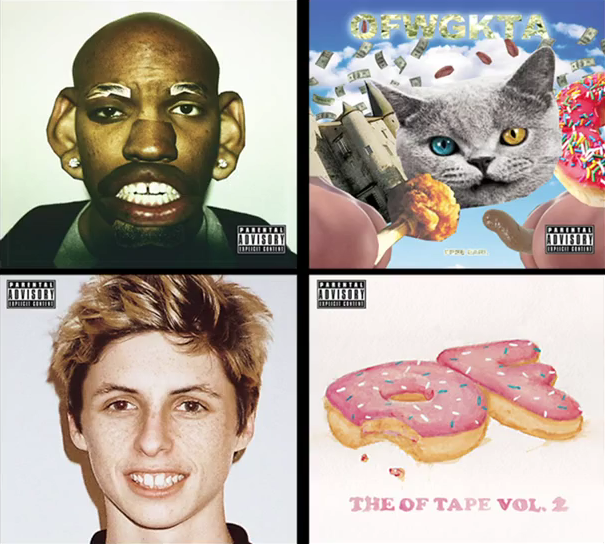 Odd Future
's second collective album,
OF Tape Vol. 2
, will be out March 20th via their own Odd Future Records and today we get our first look at its 18-track-long tracklist and its four covers (shown above). Featuring no outside guest verses,
OF Tape Vol. 2
 includes new material from every Odd Future member except for
Earl Sweatshirt
, who recently made his long-awaited
return home
from Samoa.
Before that album drops however, we'll first get new material from the gradually improving Hodgy Beats, who just announced that his new Untitled EP features production from Flying Lotus, the Alchemist, Juicy J of Three 6 Mafia, and Thelonious Martin and will be out this Friday.
OF Tape Vol. 2:
01 Hi.
02 Bitches [ft. Domo Genesis and Hodgy Beats]
03 NY (Ned Flander) [ft. Hodgy Beats, and Tyler, the Creator]
04 Ya Know [ft. the Internet]
05 Forest Green [ft. Mike G]
06 Lean [ft. Hodgy Beats and Domo Genesis]
07 Analog 2 [ft. Tyler, the Creator, Frank Ocean, and Syd tha Kyd]
08 50 [ft. MellowHype]
09 Snow White [ft. Hodgy Beats and Frank Ocean]
10 Rella [ft. Hodgy Beats, Domo Genesis, and Tyler, the Creator]
11 Real Bitch [ft. MellowHype and Taco]
12 P [ft. Hodgy Beats and Tyler, the Creator]
13 White [ft. Frank Ocean]
14 Hcapd [ft. Domo Genesis, Hodgy Beats, and Tyler, the Creator]
15 Sam (Is Dead) [ft. Domo Genesis and Tyler, the Creator]
16 Doms [ft. Domo Genesis]
17 We Got Bitches [ft. Tyler, the Creator, Taco, and Jasper Dolphin]
18 Oldie [ft. Odd Future]
You might also like: