The Smith Street Band – Sunshine & Technology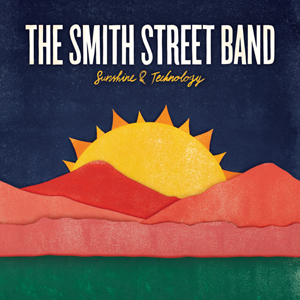 Released: August 24, 2012
Label: Poison City Records
Purchase: Poison City Records
In the past year, I have become very fond of the wave of bands coming from Australia, with a folk-punk aesthetic. In particular, The Smith Street Band, a five piece band from Melbourne whom I interviewed earlier this year which can be found here.
Their sophomore record, Sunshine & Technology, released on August 24th, has had high expectations after their first LP No One Gets Lost Anymore which didn't have a single track that disappointed. Self-described as "Folk Party Punk" with the most honest lyrics I have ever heard, Wil Wagner, does not take the same approach to his songwriting as many current day bands do. Instead of arrogantly trying to make his lyrics appeal to every listener, he writes very personally about emotions, mishaps, parties, and his views of society. In "I Want Friends", he howls out social commentary and a way to live life through "exist[ing] between the margins, not between the lines."
Sunshine & Technology is more band orientated than their debut album, as opposed to solo songs With added guitars and drums, each song now is much fuller and definitely written with the entire band in mind. The beloved, distinct Smith Street Band sound with their addictive folk melodies, backed up by punk-esque sounding guitars and a rhythmic drum beat is present in this release. My personal favorites alongside "I Want Friends" which I mentioned previously, are "Tom Busby" and "Don't Mention The War" for their sound and Wagner's lyrical genius. "The things you loved started gathering dust years ago. You know more than anyone would give you credit for, we're killing ourselves to live the best life possible." (Tom Busby). The final song that allows the album to end with a bang, "Don't Mention The War" escalates to a cohesive masterpiece with each instrument playing loudly as Wagner cries out above everything.
The Smith Street Band are first doing a national tour of Australia which has already commenced, followed by a nine day stop over in China for six shows and then a month in the U.S. Tour details can be found on their Facebook page, and the Poison City Records website.
This album, alongside their debut album, are my version of the 90's generation's Nevermind by Nirvana. Sunshine & Technology is an album not to be ignored, and is sure to receive critical acclaim. It can be purchased in mp3 format from iTunes and in CD and vinyl record from the Poison City Records website. You can also listen to a free stream of the album here.
9.0
Standout Tracks: "I Want Friends", "Tom Busby", "Don't Mention The War"
Tracklisting:
1. Sunshine & Technology
2. I Can't Feel My Face
3. I Want Friends
4. Why I Can't Draw
5. Stay Young
6. What's Changed
7. Tom Busby
8. Young Drunk
9. When I Said Us I Meant Them
10. Don't Mention The War
You might also like: