In Fear and Faith – Self-Titled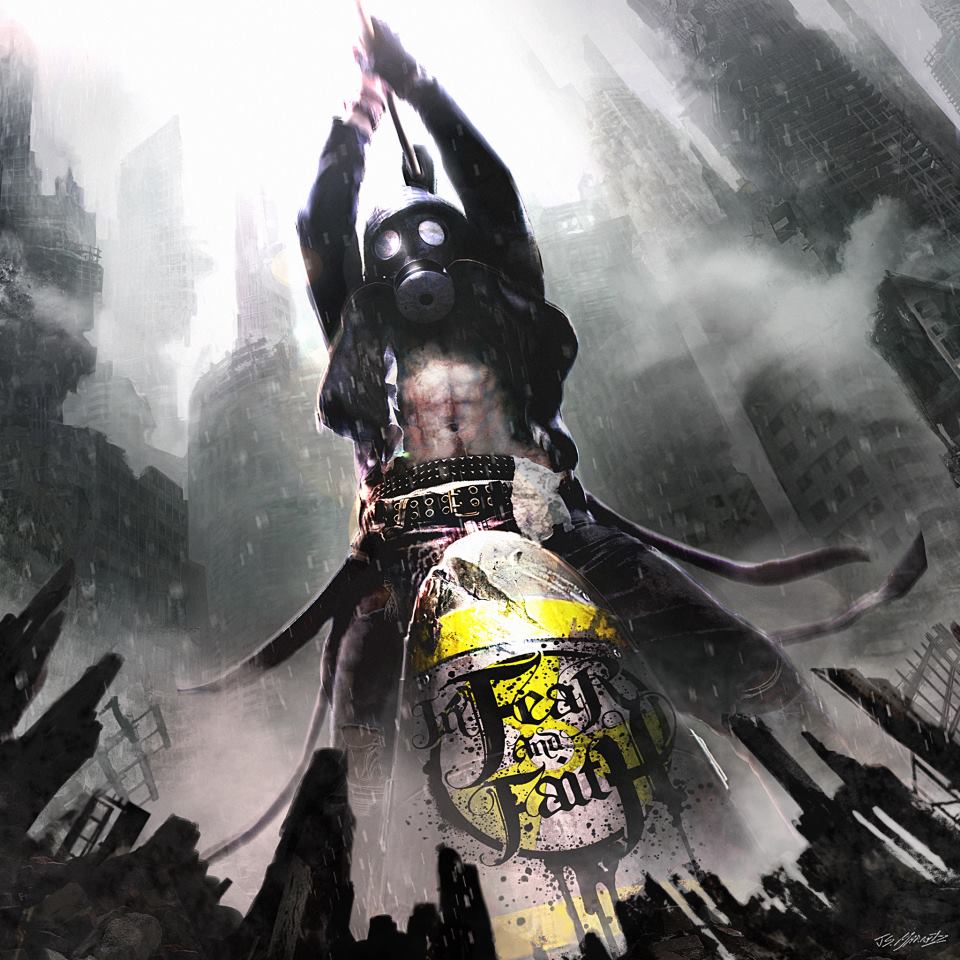 Released: 16th October 2012
Label: Rise Records
Purchase: CD | Digital
In Fear and Faith's self-titled album is the first full-length to surface from the band since Imperial in summer of 2010. In between, In Fear and Faith released a symphony-based EP, Symphonies, utilizing a combination of woodwinds, brass, choir, and screaming, among other devices, to create a unique sound. In Fear and Faith is a return to the band's true roots as metalcore, though it retains many of their distinctive elements they have picked up, as well as introducing new ones.
Like In Fear and Faith's other albums, the lyrics of the self-titled album revolve around a single theme: mankind's self-created apocalypse. The intro number opens with sounds of gunfire and helicopters, setting the mien of the entire album, which takes place after the world has been destroyed. The lyrics as a whole leave something to be desired, feeling a little weak in originality and employing several cliché phrases such as "I can't last without the ones that left me/I regret the times I couldn't see" in Last Man Stranded and "If I fall asleep, please don't let me dream/I keep on wishing that I'll forget those awful things I've seen" in Dream Catcher. However, there still are several standalone notable lines that will leave strong, positive impressions on the listener ("I'm just a sliver of the system that feeds on broken men;" "Now my lungs are filled with a creeping dose of bitter disgust for the world I used to trust"), although these pop up less often. The interesting personification of Earth in You Had Your Chance is also refreshing and a good attempt to separate the band's lyrics from that of others in the metalcore genre.
Musically, In Fear and Faith is exceptional. Singer Scott Barnes displays an incredibly powerful voice that feels more confident than that in the songs of the band's previous albums. Furthermore, while the band continues to encompass their unique blend of symphonic elements (seen in the ending of Self Fulfilling Prophecy as well as other tracks), other pieces experiment with electronic sounds in auto-tune and melody. The metal and screaming are not lacking in the album either; in fact, Look What You Made Me Do is one of In Fear and Faith's heaviest tracks, and the breakdowns in some of the songs, such as A Creeping Dose and A Silent Drum, are satisfying. The album's eighth track, Enigmatic, is actually entirely piano (played by the band's keyboardist, Ramin Niroomand, an expert in the self-proclaimed "pianocore") and symphony, its eerie tunes somewhat reminiscent and yet contrasting to the band's original sound.
Since the release of this album, In Fear and Faith has been relatively silent regarding new work. So, if you're looking for a relatively idiosyncratic band in an otherwise invariable genre, be sure to check this album out and listen to a few of their interesting tracks. It is, holistically, a symbol of their incredible talent and growth as a band.
Standout Tracks: "Look What You Made Me Do", "A Creeping Dose", "Self Fulfilling Prophecy", "The Calm Before Reform"
8.0
Track listing:
1. Intro
2. The Calm Before Reform [ft. Dave Stephens of We Came As Romans]
3. A Silent Drum
4. Look What You Made Me Do
5. Soul Survivor
6. A Creeping Dose
7. It All Comes Out (On The Way Down)
8. Enigmatic
9. Dream Catcher
10. You Had Your Chance
11. Last Man Stranded
12. Self Fulfilling Prophecy
You might also like: