The Front Bottoms – Talon Of The Hawk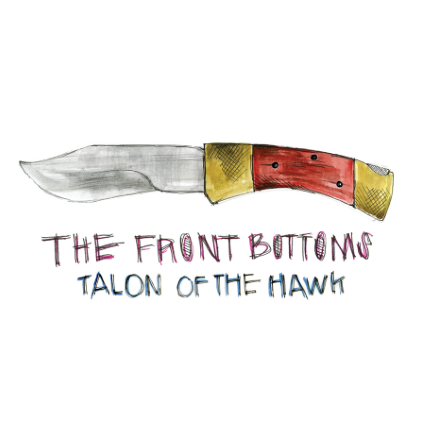 Released: May 21, 2013
Label: Bar/None Records
Purchase: Vinyl | Casette [Sold Out] | Digital | CD
The Front Bottoms' sophomore album Talon of the Hawk integrates the addition of two new members, Tom Warren (bass), and Ciaran O'Donnel (keys/trumpet/guitar) to play alongside Brian Sella (vocals/guitar), and Matt Uychich (drums). The album gives off a more band orientated sound, instead of simply a two piece bouncing off of each other's energy. However, Sella's familiar stream of consciousness implicit lyrics are very much so still present, alongside Uychich's punchy drumming.
The first track from the release Au Revoir (Adios), is the most similar sound-wise to their self-titled and provides a nice transition to the fuller band sound which kicks off near the end of the song. Twin Size Mattress encompasses everything about The Front Bottoms; the repetition of a familiar melody throughout, and figurative lyricis. Sella loudly singing, almost yelling, "I want to contribute to the chaos, I don't want to watch and then complain, because I am through with finding blame; that is a decision that I have made" enforce the sentimental connection that is almost guaranteed with each song. The track, Santa Monica incorporates the use of trumpet and synth melodies, and is reminiscent of their earlier song, Father as Sella promises"to be stronger than your Dad was for your Mom." Funny You Should Ask, a personal favorite, is one of The Front Bottoms' distinct obscure love songs, that provides an esoteric view of relationships. The lyrics, "Honey, you got to learn that love is simple, just like mud, if you play the dirt, and I'll play the water, all we got to do is touch" leading to the refrain, "Because I was young and I thought I didn't have to care about anything, but I'm older now and know that I should" provide a sense of realism differentiating the band's style to others. Backflip, a fast paced anthem of regretting tattoos, good vibes and Sella's familiar breathing techniques, shows the progression of the band sonically despite sticking to similar thematic ideas.
Talon of the Hawk may not have as many standout tracks as the self-titled, but in hindsight the bar was set so high that it would have been almost impossible to create two perfect albums in a row. This being said, due to the immense talent of the band this album does stand testament to their ability to continue to create captivating songs that will be adored by fans. After spending the last two years touring, (shown in their recently released music video for Twin Size Mattress) The Front Bottoms will begin their journey of touring again starting June 1st with a national tour. You can purchase tickets for the tour here and stream the album in its entirety via Noisey.
Standout Tracks: "Twin Size Mattress", "Funny You Should Ask", "Backflip"
8.5
"I just want this to mean something to anyone even if they don't know who I am."
Track listing:
01. Au Revoir (Adios)
02. Skeleton
03. Swear To God The Devil Made Me Do It
04. Twin Size Mattress
05. Peach
06. Santa Monica
07. The Feud
08. Funny You Should Ask
09. Tattooed Tears
10. Lone Star
11. Back Flip
12. Everything I Own
You might also like: