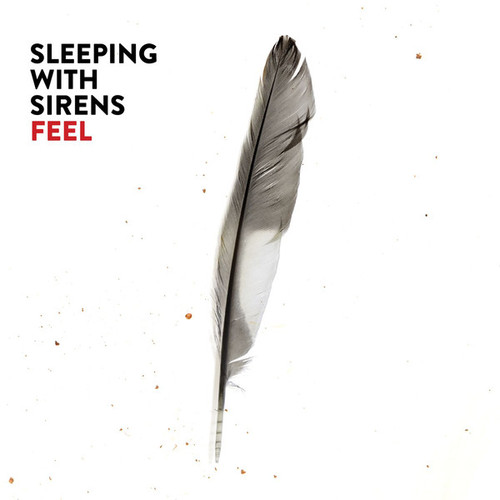 Released: June 4, 2013
Label: Rise Records
Purchase: Digital | CD | Vinyl
Sleeping With Sirens' latest album, Feel, is the post-hardcore band's first release since their incredibly successful acoustic EP If You Were A Movie, This Would Be Your Soundtrack last year. The album returns to the general band's pop-hardcore style, although certain tracks do veer off to several special creative directions, especially the tracks containing collaborations. 

Up to their standard, Sleeping With Sirens' Feel is incredibly catchy and musically pleasing to the ear. There are the same powerful, high-pitched belts and the sanguine riffs found in the band's earlier songs; if anything, the sound appears to be more advanced than before. The title and first track, Feel, as well as the subsequent tracks I'll Take You There and Free Now, are especially catchy and memorable. Sleeping With Sirens also does wonders balancing between light and heavy sounds in the album; there seems to be no problems at all meshing sounds such as Satellite, Sorry, and Low with Déjà Vu, These Things I've Done and The Best There Ever Was. Overall, the sound of the album is satisfying and compelling.
Several tracks take a unique twist, most with surprisingly successful outcomes. Alone takes the cake with a feature from rapper Machine Gun Kelly—in the track, vocalist Kellin Quinn himself sings in a pseudo-rap style, creating a sublime and very unforgettable crossover between the two genres. Similarly, The Best There Ever Was features deathcore band Attila's frontman Fronz, and it utilizes his rapid-fire screaming to create a unexpectedly solid piece. And These Things I've Done includes incredibly gratifying electronic and hardcore sounds. Almost ironically, however, the album's most highly anticipated collaboration with Memphis May Fire's Matty Mullins in Congratulations appears to be one of the weakest tracks and an example of two talented artists teaming up with mediocre results.
Compared to their earlier work, Feel appears to be an improvement and a bold attempt to distinguish themselves as the very best in post-hardcore. While individually several tracks may not be "love at first listen" and may require a few replays to fully enjoy it, holistically the album is diverse and powerful.
Standout Tracks: "Alone", "Feel", "I'll Take You There", "Sorry", "Satellites"
8.0
Track listing:
01. Feel
02. Here We Go
03. Free Now
04. Alone (feat. Machine Gun Kelly)
05. I'll Take You There (feat. Shayley Bourget of Dayshell)
06. The Best There Ever Was (feat. Fronz of Attila)
07. Low
08. Congratulations (feat. Matty Mullins of Memphis May Fire)
09. Déjà Vu
10. These Things I've Done
11. Sorry
12. Satellites
You might also like: