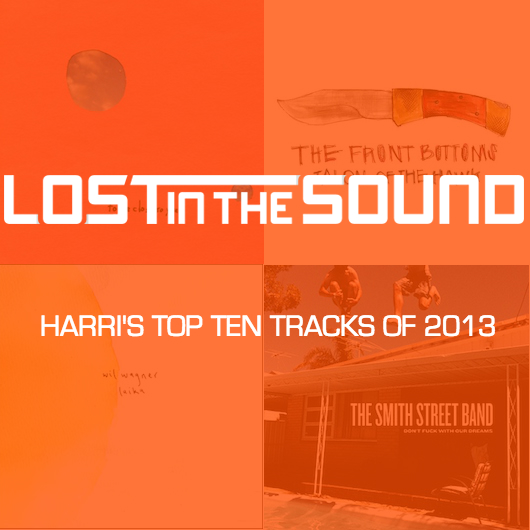 Over the past year, Lost In The Sound has moved in a new direction covering alternative genres and choosing to add focus on lesser known artists. With this in mind however we also continued to cover prominent outfits that we enjoy listening to and supporting. We added punk, metalcore, folk and ambient to our editorial genres to give us a more diverse array allowing us to promote more of our favorite bands and solo projects. With all of these changes we thought it would be much more reasonable to compile ten tracks from each of us reflecting on our favourites from the last twelve months. So, this year, LITS presents fifty tracks in five separate top ten lists. Today we present our second list of the series by 
Harri Gibson
.
10. Manger – The Sweater I Gave You from One
I only found out about the One, Two, and Three EP's a couple of weeks ago, but the constant tape fuzz warmth and the duet vocals create this great pop tune perfect to start off my list.
9. Glossed – Smith Westerns from Soft Will
Hailing from Chicago, their album Soft Will is one of my feel good albums when I want to stray away from depressing tracks. Frontman, Cullen Omori's airy vocals make this dreamy pop number for me and I'm looking forward to whatever is next from them.
8. I Still Think About Who I Was Last Summer – Old Gray from An Autobiography
I had to put at least one emo track on here… There's an acoustic version of it on the Big Footprint Records compilation that's pretty cool too. The slow guitar melodies, the heart wrenching lyrics and the spoken word prose at the end really show how far this band have come since their 2011 demo.
7. Good Shit – Georgia Maq from Friends & Bowler's Run
Melbourne's second finest, Shit Street Band for life! Plain and simple – acoustic strumming, strong vocals and easy relatability for any lost teenager. Friends & Bowler's Run has been on repeat since I first picked it up, and a new release in the new year would be greatly appreciated.
6. Virgin Veins – Coma Cinema from Posthumous Release
Amongst the melancholy, this track stands out the most for me on the album. I would have chosen Survivor's Guilt but the little blues-like electric solo and the refrain, "so lonely / so ugly / and confused" pushes it ahead of the others. The 12″ just got here yesterday so thanks Fork & Spoon Records!
5. Other Voices – The Orwells from Other Voices EP
Raw garage punk straight out of high school, with all the teenage angst you could ask for. This song only makes sense if it's played loudly and any track that has the lyrics "Don't grab my hand / I'm not your friend / I'm waiting for my life to end" deserves to be on a top ten list.
4. How They Made Us – Wil Wagner from Laika
I know that  I should probably choose the titular track from this release, but it just wasn't as relatable. I used to sing this song when I walked home, and had no clue where Punt Road was but it still meant something. I believe there's a new solo album from Wagner in the coming year, and I'm pretty happy about that.
3. library – Julia Brown from to be close to you
There's a hi-fi recording of this song on their 7″ but I've always preferred the fidelity of the album. Hauntingly beautiful lyrics, a violin, and Torts' hair all coming together for an exceptional pop tune.
2. Back Flip – The Front Bottoms from Talon of the Hawk
I was skeptical when I knew they were adding two new members to the band, but everything stayed the same, the trademark lyrical style, Ullyich's pulsating percussion and the arpeggiated powerchords. If anything the additional members just created bigger fuller build-ups and songs, which is always a plus. I just loved the lyrics and couldn't get it out of my head for a very long time.
1. Ducks Fly Together – The Smith Street Band from Don't Fuck With Our Dreams
Simply put The Smith Street Band are better than The Beatles ever were. I was split between this and Self Control for my favorite track of the year, but this song has everything, the sense of pining for someone, the signature crescendos, and a chorus that deserves to be shouted. Also it's a bit more optimistic than the rest of these tunes and that's needed at times.
You might also like: