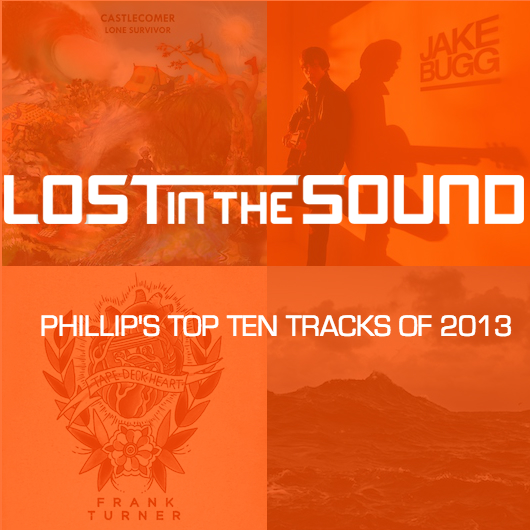 Over the past year, Lost In The Sound has moved in a new direction covering alternative genres and choosing to add focus on lesser known artists. With this in mind however we also continued to cover prominent outfits that we enjoy listening to and supporting. We added punk, metalcore, folk and ambient to our editorial genres to give us a more diverse array allowing us to promote more of our favorite bands and solo projects. With all of these changes we thought it would be much more reasonable to compile ten tracks from each of us reflecting on our favourites from the last twelve months. So, this year, LITS presents fifty tracks in five separate top ten lists. Our fifth and final list in this series is from
Phillip Imkamp
. Happy holidays to all!
10. Stay –  Patrck James from All About To Change – EP
Too me Patrick James is one of the up and coming artists of 2014. He released his debut all All About To Change EP this year, and to this is by far my favorite track. Just Patrick James and his piano.
9. Country Way – Rainbow Danger Club from SOUVENIRS
Since the sad depart and split up of Boys Climbing Ropes, Rainbow Danger Club are now the number one local band in Shanghai. Country Way is one of their calmer, folk orientated songs, and the accompanying harmonica makes it a great song to relax to.
8. Them – Little Green Cars from Absolute Zero
Another band to look out for in 2014, Little Green Cars craft some great harmonies. Although this song moves away from their more acoustic sound, it still has a nice electric guitar feel.
7. Give Me Some Love – We Are Monroe from Volume One
From one of my favorite new bands, their song Give Me Some Love is one of the faster tracks on my list. In this song you are able to hear the amazing vocal range that their lead singer possess, with power and control. A great song on a fantastic EP.
6. Backyard Skulls – Frightened Rabbit from Pedestrian Verse
At first I wasn't too keen on the new Frightened Rabbit album, with my expectations being too high after their incredible first album. But after listening to it more and more, I got really into it, and Backyard Skulls became a standout track. This song has that classic Frightened Rabbit touch to it that can never go wrong.
5. Comrade – Volcano Choir from Repave
When hearing that Bon Iver broke up I was extremely upset but when discovering that the former front man, Justin Vernon, has his new project, I felt a little better. Though Volcano Choir may never live up to Bon Iver, it is still great to hear the trademark Vernon falsetto, and Comrade really expresses that. For those of you with Bon Iver withdrawal, I recommend giving this a listen to.
4. Polaroid Picture – Frank Turner from Tape Deck Heart
Having gained more popularity this year, Frank Turner was easily going to make this list, the only question was, which song? I personally found Polaroid Picture my favorite song of his while making this list, but almost any one of his tracks from the album Tape Deck Heart could have made it.
3. Slumville Sunrise – Jake Bugg from Shangri La
After getting the break out recognition that he so thoroughly deserves, Jake Bugg has not slowed down. We were lucky enough to have him release his newest album in November, with Slumville Sunrise being my favorite song from it. It's classic Jake Bugg, with a smooth guitar, guitar riffs throughout, and a great shouting worthy chorus. With two albums under his belt at such a young age, he's just going to get bigger and better.
2. Lone Survivor – Castlecomer from Lone Survivor – EP
A personal favorite band that I have been following for the past four years, they finally released their second EP during this past summer, and it did not disappoint. With their perfect harmonies, and acoustic guitar melodies, you can't go wrong with Lone Survivor.
1. I Forget Where We Were (Live) – Ben Howard from N/A
Finally the one I was most excited about, Ben Howard is one of the best singer songwriters of our current generation. After going on hiatus after winning two Brits, Ben Howard has come back blazing. Though he hasn't relseased a recording of this song yet, it has been my favorite in every live show he's played. He has moved away from using an acoustic guitar, and instead has picked up a gritty electric guitar. This combined with his pure passion for the music he makes I can not wait for a new release in early 2014. If the rest of the songs are half as good as I Forget Where We Were then it's sure to be a classic.
You might also like: