Bon Iver – Bon Iver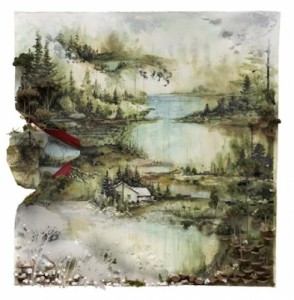 Released: June 21, 2011
Label: 4AD / Jagjaguwar
Purchase: iTunes | Insound | Amazon
Bon Iver's debut effort For Emma, Forever Ago was an outpouring of emotional tumult cast against the backdrop of a Wisconsin log cabin and not-yet forgotten heartbreak. Surrealist lyrics meandered through and around softly strummed guitar by way of a subdued falsetto, and as enigmatic front man Justin Vernon laid his miseries bare it was both intimate and understandable.  Four years on, and in their sophomore album Bon Iverthe American indie-folk ensemble have realized a sound that is superficially a bold step away from Vernon's earnestly raw beginnings.
The log cabin is out of the picture, and Emma never mentioned. These two formative mainstays of For Emmahave been abandoned entirely, and in their place what remains is the question as to whether its' follow up retains a similar sense of sincerity. Ultimately, writing critically about the ardor of this record is a conflicting undertaking, and stirs in the reviewer an inalienable sense of indecency. There is an emotional unrestraint to Vernon's lyrics that makes any commentary feel facile – as if one were mentioning a subject-verb disagreement in a suicide note, or a poorly constructed metaphor in a wedding vow. These all seem so deeply personal and emotionally charged that perhaps fixating on trifling matters such as lucidity just isn't decorum. The meanings of these songs are derived holistically – on their own, the lyrics oftentimes seem like gibberish and are possibly intentionally alien to a casual listener – and only after concerted effort. Very few listeners will be able to initially listen to "Calgary" and immediately glean that it is an ode to love between two people – who haven't yet met. Once you realize this (which for this reviewer took all of four listens) not only does it seem beautiful, but it makes sense, too.
So is the record as honest as its predecessor? I would suppose that it probably isn't, but therein lies the hidden difficulty of this record: who are we to judge the authenticity of something so obviously individual?
What can be said is that it has lost a sense of commonality that defined For Emma. In Emma, there was a prevalent sense of desperation that shone through the Vernon-specific subject matter simply because it was so relatable. Bon Iver falters here – the album is thematically incongruent. "Perth", a "civil war heavy metal" piece is followed by "Minnesota, WI", a declaration of strength following saying goodbye. This trend of dissimilarity is continued across the album and it is less connective as a result.
Where the album truly excels is in its impeccable arrangement, and the sheer technical skill that was less pronounced on For Emma. Their debut was economically constructed and at times sparse, whereas Bon Iveris a work of maximalist near-perfection. Whether this is as a result of Vernon's continued collaboration with the egomaniacal Kanye West or the inclusion of new band members Mike Noyce, S. Carey (of solo fame) and Matthew McCaughan is unclear, but regardless there is an obvious musical confidence to the album. Consider the oft-discussed "Beth/Rest" – a superficially comical track that treads on the musical DMZ of early-eighties, Richie-esque love ballads but, perplexingly, pulls it off.  Very few artists would voluntarily include a church organ in their album's closer, but Bon Iver has and the result is a track that is both soaring and tender not in spite, but rather because, of the unorthodox arrangement.
The similarities between Vernon and his frequent collaborator 'Ye end here, though – where Kanye's confidence extends into arrogance, there are no pretentions in Bon Iver's work. Consider Vernon's mournfully trill on "Holocene", "at once I knew / I was not magnificent": the persona presented throughout this album is immediately human and moreover likeable. This serves to imbue the record with a unassailable imperative to listen, just listen, and appreciate.
Bon Iver is as lovely, dark and deep as the woods of Vernon's Midwestern hometown. It is a confusing and touching record, and consistently defies interpretation. It may be less relatable than For Emma, Forever Ago, but don't let this belie the fact that this is a transformative album. Substantial, buoyant, staunch – Bon Iver'sBon Iver is, at least in this reviewer's opinion, the best album of the year so far.
9.3
Standout Tracks: "Holocene" and "Beth/Rest"
Panda Bear – Tomboy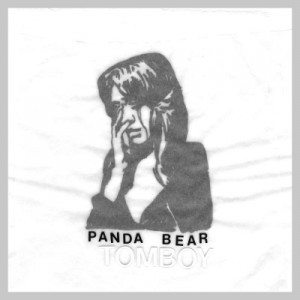 Released: April 12, 2011
Label: Paw Tracks
Purchase: iTunes | Insound | Amazon
Most finely tuned machines are beheld without conscious awareness of the intricacies and technical attention that has been involved in their construction, and their users blissfully ignorant in their expectation of service. Only once exploded is it apparent that the functions these machines serve are enabled only through the purposeful arrangement of all component parts toward an intended function. We become conscious of the fact that these units, complete and unassuming, are the result of a multiplicity of tiny mechanisms interrelating, communicating, affecting one another to produce a wider experience that is elaborate in its execution but impressively focused in delivery. The next, subsequent, realization is that this construction took skill – immense skill – and most of us would be ill-equipped and unable to create anything like it.
In this regard, Noah Lennox's (Panda Bear)Tomboy is the musical performance racer of finely tuned machines.
In today's alternative music scene, experimental electronica albums are a dime a dozen – often eventuating to be, ironically, hackneyed in their pursuit of nuance and originality. Lennox, of Animal Collective renown, is no bandwagon-hopper. Over the last eleven years and eight releases he and his Animal Collective comrades have been trailblazers of trip exploring the frontier of freak, with a steady stream of Lennox solo work supplementing their catalogue with characteristically hazy, washed out experimental electronica under his moniker Panda Bear.
This is electronic music, but not in the typical sense. There are no massive, tacky bass drops in Tomboy – any crescendo is supported by lavishly layered samples and loops. There is an almost classical sensibility in Lennox's approach to electronic music, perhaps telling of his childhood background in the cello and piano. New sounds are introduced in concordance with one another and with a long amplitude attack and as a result the tracks tend to feel painstakingly created rather than a cobbled together graduation leading to a single cheap thrill. Songs are dynamic; some tracks begin and end in completely polar genres ("Last Night at the Jetty" meanders through ambience and chamber pop on its transition to rambling freak-folk).
Tomboy is drenched in distortion. Fuzz soaks sharp, bold loops with a softness that subdues them. The use of reverb contains the album's sound, envelops otherwise domineering musical aspects (the percussion in "You Can Count on Me") and wraps them in a softness that consolidates into a single musical experience what is essentially a collection of competing loops. The album is also almost exclusively poly-phonic – rarely do we experience abate from swirling, pulsing noise, which lends to the uncommon moments when the fuzz is stripped back a striking sense of clarity.
Individual songs seem to have no message independent of the album, and derive their meaning from their function/position within the record. On an intra-track level the songs blend into one another, to the extent that during a prolonged listening session the ocean of fuzzy reverb makes to disguise the separate songs into a single cohesive experience.
There is a strangely accessible side to the record. Lennox barely alters his voice's strained lilt throughout the album, the constancy of his vocals adding continuity between tracks – comforting in its familiarity as a friend would be in a foreign country. For listeners completely comfortable in the album's intimidatingly unconventional sound, though, this fixed voice is occasionally mired by predictability and may stagnate by the end of Tomboy.
The album's main shortcomings are interconnected with this same familiarity and constancy. While immediately a very rewarding and immersive album, there is little fundamental deviation between tracks (also between this record and Panda Bear's back catalogue as a whole) and as a result it simply doesn't stand up to repeated listens. It is an enjoyable, intricately detailed experience, but ultimately not a deep one.
Tomboy will not be Lennox's magnum opus, nor is it genre-defying, but it is a stunningly complete album experience and proof that he is damn good at what he does best. And why shouldn't he be? He's clearly had enough practice.
8.5
Standout Tracks: "Afterburner" – the current popular favorite, and with good reason: a throbbing bass line and buckets of fuzz make for a track effortlessly laid-back and enjoyable.
The Mountain Goats – All Eternals Deck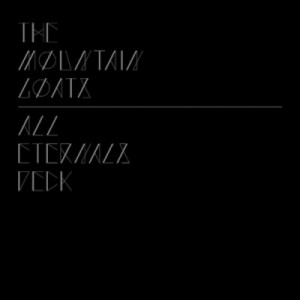 Release Date: March 29, 2011
Label: Merge Records
Purchase: iTunes | Insound | Amazon
As any seasoned fan of The Mountain Goats (or "Old Goats" as they are so want to be called) will tell you, the group has always been little more than a creative vehicle for frontman John Darnielle. Diminutive and seemingly painfully suburban, he imbues his nuanced lyrics with such an unrefined emotional rawness that Mountain Goats classics like "No Children" and "Dance Music"– apotheoses on love, loss and dysfunctional relationships – manage to be in equal parts deeply personal and arrestingly touching.
By this measure, All Eternals Deck is a starkly underwhelming album. Lyrically, the album seems strained – Darnielle's once effortlessly sinuous song writing is mired in a slew of simplistic "night/light" ABCB couplets, an unfortunate album trait exemplified in the utterly forgettable "Prowl Great Cain". This percussion-driven romp, with its clichéd biblical reference and contrived end rhymes, is an insipidly glib experience that is regrettably mirrored in many of All Eternals Deck's tracks. The album is thematically unfocused as well – the record opens with an angry meditation on the meaning of freedom ("Damn These Vampires"), diverts itself briefly into an ode to love lost ("Age of Kings") and finally arrives at a self-depreciating criticism of big-city life ("Liza Forever Minelli"). The only connecting aspect throughout the album is a pervasive sense of dread – when he's on form, even on musically upbeat tracks ("High Hawk Season"), Darnielle's interminably candid vocals saturate the record with malaise and foreboding.
Where the album truly comes into its own is within the function it serves for the rest of the band's catalogue:  All Eternals Deck marks the final stage of the Goats' progression from Darnielle's early hushed acoustic work to what is essentially an exercise in vaguely The Hold Steady-esque alt-rock. This is arguably the most obviously produced of the Mountain Goat's albums, lending inarguably from the involvement of legendary death metal producer Erik Rutan, however the value of his influence on the record is debatable. Darnielle traditionalists will likely resent the unapologetically more accessible direction taken on the album whilst new fans will appreciate its cleanliness. Personal preference notwithstanding, the fact remains that on at least several of the tracks Darnielle's vocals have had their sincerity buffed out by over-zealous production – gone are the idiosyncratic inflections and intimately delicate intakes of air at the end of lines that shone so clearly in past albums (Read: The Life of the World To Come). The vocal track that remains is often embarrassingly reedy and unimpressive, especially on the tracks in which Darnielle attempts to raise his voice above his typical reserved lilt and into a stirring bellow ("Birth of Serpents"). Significantly, there is an obvious decentralization of Darnielle as the creative driving force of the band – there is a much more diverse instrumental track in the album compared to some of its acoustic guitar-lead predecessors, telling of a more involved contribution from bassist Peter Hughes and drummer Jon Wurster.
All Eternals Deck is by no means a bad album. The lyrics may not be Darnielle's finest, but at the same time he abstains from counting off the days of the week – he is as always at the head of his contemporaries in this regard. As a typical Mountain Goats record, it takes no excessive risks but is appropriately emotive and sublimely executed. Ultimately, listener enjoyment of this album is largely dependent on their opinion of the band's back catalogue: an All Hail West Texas purist can be expected to disapprove of the relatively weak writing and intimacy of the record. All Eternals Deck has only promising things to say about the future of The Mountain Goats, and knowing John Darnielle – we won't have to wait long till we find out just what it entails.
6.1
Standout Track: "Never Quite Free" – triumphantly defiant, a fitting emotional climax for the album.