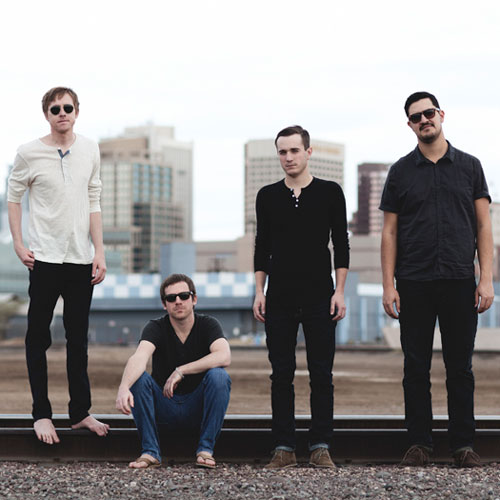 Lydia
has been a staple of the indie rock scene now for almost a decade, but not without their fair share of ups and downs and all the lineup changes that came with it. We talked to Leighton about their new album
Devil
, released earlier this year, asking him about their new sound and their current tour with their friends from
Cartel
.
Questions by Kevin Ma.
The progression in Lydia's sound from Paint it Golden to Devil is pretty clear, was this a deliberate act to reach out to newer fans or more of a natural change? Devil definitely sounds the happiest of your records to date.
We definitely didn't set out to make a "certain kind of album." I think it just ended up sounding more upbeat naturally. We also went with a new producer to make Devil, so that probably contributed to the slightly different sound as well.
The balance between keeping the old Lydia sound that fans love and opting for a more poppier sound is quite well done in Devil depite it seeming risky to attempt, how did you achieve this balance?
I really think it's terrible to play it safe while writing. It's one thing that I truly hate, when an artist puts out a record without taking any risks. There is really something to be said about stepping out of your comfort zone. Some amazing things can come from it.
Moments of 'beauty' have always been a part of what makes Lydia's music so endearing to fans. Your past records didn't have a problem in achieving these emotional, layered moments as they were sad in nature. Devil, being almost the opposite, still manages to achieve these moments. Was this the result of many conscientious decisions on your end or did it sort of magically happen during the recording process?
Honestly we were just trying to make the best songs we could. I feel like it would be a mistake to go into any creative project with a strong agenda. The guys and myself were very lucky to have the great team around us for the recording and release as well.
What's the inspiration behind the Devil album artwork?
We get asked this a lot because, I guess, it's so different from our previous artwork. We were going a slightly different direction with the music, and so we wanted to do the same with the artwork. Our manager and myself came up with an idea that slowly morphed into what you actually see as the artwork.
How have your musical inspirations for writing new songs changed with each record? Are there certain musicians that you'll always look at for inspiration?
I really do try and look at every release, and song, completely different from anything we've done already. I think that in itself  as made the albums different. Also I would say we make a conscious effort of not forcing any songwriting. If its not there, it's not there. Sometimes you just have to put the instrument down and come back to it later.
There are a lot of lines that have stuck with fans: "…it's such a life to remember", "When all we want is to be enough / When all we want is to feel enough", and my personal favorite, "Darling, you fucked up". What is your favorite line you have written?
Ha, I mean I wrote them all so I'm kind of biased, but I just love how the fans hold all the lyrics and songs so close and personal.
Favorite songs to play live? Best and/or craziest crowd reactions?
Um, we just put out a song called "Back to Bed" off of our new record Devil. This one got a whole lot of amazing Lydia fans pretty wild on tour.
Leighton, you have another project called The Cinema, how do you balance the song writing for both Lydia and The Cinema? How do the songs differ and influence one another?
I try my best while writing to keep both projects separate from each other. I love to write and produce both bands, but I feel like any "separate" project you do shouldn't be too close to another. That said, I think it's only human that some of the writing probably influences other parts.
What's next for Lydia?
Lydia is going to be releasing a deluxe edition of our latest release Devil with 6 extra tracks on it. Then we will be on the road for a lot of the remainder of the year. Hope to see some yo' faces out there, cheers!
Pop rockers All Time Low are currently gearing up for their "Gimme Summer Ya Love" Tour in support of their new album, Dirty Work. We've partnered with the band to give a pair of tickets away to one fan on each date of the tour. Five of these winners will then also receive a copy of Sims Generation, which includes "I Feel Like Dancin'", the first single from Dirty Work.
All Time Low will be joined by The Starting Line, Cartel, Mayday Parade and a number of other bands. Interested?
Enter the contest here. The contest ends July 20th and the tour begins on the 25th, so act now.
Since taking a break in 2008 to focus on separate projects, The Starting Line have been engaging in much activity in recent time, hinting that the band may be back together, and even possibly working on a new album. They have announced a few playing dates with All Time Low for their, "Gimme Summer Ya' Love" tour, which will be played with other bands such as Cartel, Mayday Parade, and a few others. The official statement from Matt Watts, lead guitarist, is below:
"I just happened to read all the tweets and postings about everyone's excitement about the TSL "break" being over. First off, I'd like to thank everyone for the excitement and enthusiasm, it really means a lot! It wasn't intended to sound like an official announcement that the break is over, we all felt like it was over once we started playing shows again, but I guess hadn't publicly acknowledged so.
So to address it:
As you've probably noticed, TSL has become slightly more active, and we even have a few new songs in the works. The main reason behind the break was to take some time and evaluate things, touring for 8+ years got really exhausting and we all needed to take a step away to see if TSL was something that we all still loved and wanted to pursue. After taking a much needed break, we're all at a point where we truly love and appreciate what we were able to do together, and genuinely miss playing shows, writing, and being around one another.
Playing shows with the band, and even just getting together to hang out has been more fun than ever, everything is feeling great and natural, and seems as exciting as when we first started out. There's just an undeniable chemistry and energy present that seemed to be lacking near the end of things.
That being said, we're playing more shows and writing new music, but there's no specific timeline that we're on, nor do we have any real plans (as of right now), to be touring full time. That doesn't mean that we won't be playing shows in your city/town, it just means that we probably won't be taking a traditional approach to touring and being an active band. All of us have various things and commitments happening in our lives that aren't really conducive to year round touring. However, we do plan on playing shows more frequently and (slowly) working on a new album at some point. We're also trying to figure out a way to get to some of the cities that we haven't played since we went on "break" (talking to all of you on the West Coast).
We'll keep you guys updated on any new developments!"