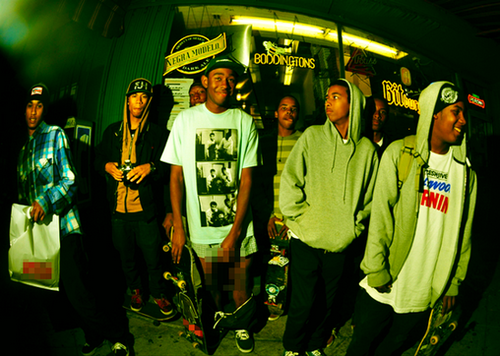 Check out a new music video from Los Angeles based hip hop collective
Odd Future
for their song "Rella", which features
Tyler the Creator
,
Hodgy Beats
,
Domo Genesis
and production by
Left Brain
. The video comes chock full of funky wigs, samurai space suits, and laser transforming genitalia and is in promotion for the group's next release,
OF Tape Vol. 2
, which will be coming out March 20th through their own Odd Future Records.
Also coming up for the crew is the premiere of their own TV show on Adult Swim, Loiter Squad. The show will premiere five days after their new tape on March 25th, and you can check out a teaser over at World Star Hip Hop.
It's not the full-fledged follow up to Rolling Papers, but yesterday we got a brand new free mixtape from Odd Future's stoner-rap specialist Domo Genesis. His latest project, Under The Influence, is a fourteen track mixtape featuring Domo rapping over some of his favorite industry beats, including Kanye West's "We Major". The whole affair sounds quite out of place in the rest of the OF catalog, firmly cementing Domo's place as the explosive collective's most laid back member.
Odd Future's de-facto leader Tyler, the Creator makes an appearance as Ace on "Whole City Behind Us". While Under The Influence, isn't quite as polished as Tyler's Bastard mixtape or Earl Sweatshirt's EARL, it's still a great piece of work. You can download the entire mixtape below. A few choice cuts are also included below as previews.
DOWNLOAD: Limelinx
MP3: Domo Genesis – "Guess Who's Back"
MP3: Domo Genesis – "Whole City Behind Us (feat. Ace)"
Odd Future's Domo Genesis took to his Twitter page last night to release a brand new track entitled "Boss' Life". Domo raps for a minute and 45 seconds over Snoop Dogg's original "Boss' Life", produced by Dr. Dre. The original can be found on Snoop's 2006 release The Blue Carpet Treatment and features the late Nate Dogg, who provided the hook. RIP.
According to Domo, he recorded his verse over the song last night and then two hours later, decided to drop the track for his followers. The result? A chill track from Odd Future's most laid back rapper. Look out for his new mixtape, the follow up to 2010's Rolling Papers, which should be released sometime this year.
Stream the song or download it below.