Calvin Lauber, lead guitarist of Looking For Alaska, has provided us with an exclusive insight into the band's recent experiences, their new sound, and their upcoming full-length debut album. You can check out a brand new demo titled "Psalm Of A Pharisee" below.
Calvin: "So, basically since you guys last heard from us, we've done a whole lot of stuff. Done a lot of touring, including Chicago, St. Louis, and Nashville, which were all super awesome. But biggest in LFA camp is that the last few months we've really been cracking down on finishing our new album. This summer we are going into the studio with Tyler Orr at First Street Studios. He's recorded some of our favorite bands, such as As Cities Burn,Copeland, So Long Forgotten, and more, so needless to say we are super excited. The new stuff, as you'll be able to hear in the new demo, is a bit darker and heavier. This record is definitely going to be heavily influenced by bands like Thrice, Circa Survive, As Cities Burn, stuff like that. The new record doesn't have a title yet, but we're going to start recording at the end of july, so hopefully the record will be out this fall. If you dig the demo, and you liked our last EP Everything We All Wish We Could Be, we have hope that you will dig the new album too! If you want to help us out the biggest thing you can do is just show a friend (or two or more) our band. That would mean the world to us.
Thanks for reading guys, we love you!"
"Psalm Of A Pharisee" indeed carries a much heavier sound than the music on the band's debut EP Everything We All Wish We Could Be, which was riddled with more catchy and poppy guitar riffs. Give it a listen above.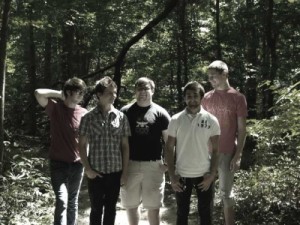 Last week, we introduced you to Looking For Alaska, an indie rock band from Memphis, Tennessee. If you haven't already checked out their debut EP Everything We All Wish We Could Be, download it for free here or purchase the EP from iTunes. We got a chance to talk to the members of Looking For Alaska (Chad, Calvin, Joshua, Garrett, and Chris) and here is our interview.
For our readers, could you please state your names and what you do in the band?
Chad Turner: I sing and yell.
Calvin Lauber: Lead Guitar
Joshua Cannon: Rhythm Guitar
Garrett Galtelli: Bass
Chris Chamoun, pronounced, Shamoon: Drums/Percussion
How did Looking For Alaska come to be?
Garrett: Well, we had all grown up listening to local bands. We all pretty much spent most of our youth at a now-extinct venue here at home called The Skatepark of Memphis. Life was fun. We were all casual acquaintances in the beginning and watched each other's bands play, and over the years we grew fond of one another's different styles and spawned a small family of diverse musical preferences. That pretty much began with a local record label here in Memphis called Smith Seven Records. We called ourselves "The Underground Revolution" and that's exactly what we were. After several years, bands would come and go and tour and what-not, but they always came back to visit from time to time. Looking For Alaska consists of 5 members of this family. I call us a family because that's what these guys mean to me. They are my family, they are my brothers. I joined this band because I feel that music is by far, the most inspirational styles of media out there, and I think I speak for everybody in the band when I say, if you can make music, you can inspire. (more…)
Looking For Alaska
For Fans Of: Copeland, The Dangerous Summer, The Starting Line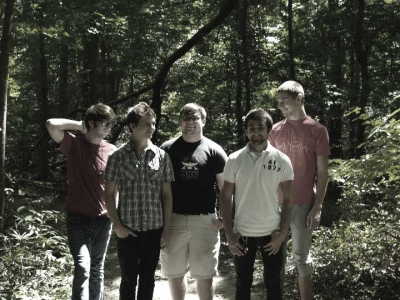 Lost In The Sound proudly presents 
Looking For Alaska
, an indie rock band from Memphis, Tennessee. Combining soaring instrumentals with accessible personal messages, Looking For Alaska draws comparisons with bands such as 
The Dangerous Summer
, 
Copeland
, and 
The Starting Line
. The band's debut EP, energetic and fun, hints at an extremely bright future for the band. Be sure to give it a listen.
Read more for a band biography, contact links, and a free download of their debut EP Everything We All Wish We Could Be.
Forming in the early months of 2009, Looking For Alaska is an indie rock band that planned to break the mold in the Memphis, TN music scene. Surrounded mostly by metal bands, Looking For Alaska began playing their brand of unique and accessible indie rock around the Memphis area. After going through several member changes, the band is finally at a state of stability and readiness to take on the world with their music. Including members Chad Turner (Vocals), Calvin Lauber (Lead Guitar), Joshua Cannon (Rhythm Guitar), Garrett Galtelli (Bass), and Chris Chamoun (Drums), the band mates and best friends have played all over TN and surrounding areas trying to make an impact on anyone willing to listen. In spring of 2010 Looking For Alaska began recording their debut self-produced EP "Everything We All Wish We Could Be", featuring catchy indie rock songs with themes that include saving friendships, bettering yourself, and finding God. The EP was released physically and on iTunes on August 17, 2010. Working with the non-profit organization Smith 7, Looking For Alaska has helped raise money for poor and needy families all over Memphis. Since then the band has already recorded two new self-recorded and produced demos and is writing their future full length album. With plans to tour as much as possible, Looking For Alaska hopes to reach out to anyone finding themselves in situations where all they need is a little hope to hold on to.
Download the band's EP Everything We All Wish We Could Be for free here. Support the band by purchasing the EP on iTunes here.
Looking For Alaska is:
Chad Turner – Vocals
Calvin Lauber – Guitar
Josh Cannon – Guitar
Garrett Galtelli – Bass
Chris Chamoun – Percussion
Myspace: http://myspace.com/lookingforalaskaband
Facebook: http://www.facebook.com/pages/Looking-For-Alaska/201389071857?ref=ts 
Twitter: http://www.twitter.com/Looking4Alaska