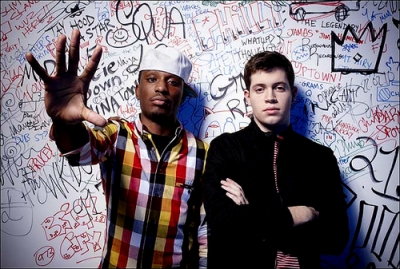 I had the opportunity to chat with Chidera "Chiddy" Anamege and Noah "
Xaphoon Jones
" Beresin, the duo behind rap group 
Chiddy Bang
. We discussed Chiddy's record-breaking freestyle for MTV.com, their new mixtape 
Peanut Butter & Swelly
, their upcoming (and highly anticipated!) debut album 
Breakfast
, and their involvement with Taco Bell's 
Feed The Beat
 Program. They'll be performing a concert in Philly next week for Taco Bell and for those of you who can't make it, you can catch the performance live on the Facebook page.
Check out the full interview below.
Chidera "Chiddy" Anamege: Yo yo yo what's up? How are you doing?
LitS: Good, how are you?
Chiddy: Good, good, just chilling in Orlando, Florida.
Noah "Xaphoon Jones" Beresin: Wassup?
LitS: First off, Chiddy, congratulations on your new world record. Nine hours is an incredibly long time. What was going through your head while you were freestyling?
Chiddy: What was going through my head was like, "Man, I hope I have the endurance to be able to successfully rap for nine hours." After the first hour, I was like man I could do this because I thought I had been rapping for maybe twenty minutes or so, but when I looked at the clock it had already been an hour, hour-fifteen. I was like, oh that went by kind of fast! Time pretty much flew by.
LitS: Why did you guys decide to do the freestyle in the first place?
Noah: I think it was actually our manager's idea, right?
Chiddy: Yeah, it was our manager's idea.
Noah: Our manager came up to Chiddy and was like, "Yo, you're gonna rap for nine hours. It's gonna happen."
Chiddy: And I was just like, "Okay, I mean, I can rap, you know what I'm saying?" I thought about it and was like it's a big achievement, you know, and I was thinking to myself, like I could actually have a Guinness Record. This was something I felt that although it was long and extremely strenuous, I did it. (more…)
We recently got a chance to speak to Gabe Chilarello, lead vocals of Sink Tapes, an indie band based out of the Asbury area of New Jersey. We were able to learn a lot about the background of the band, their first album, Same Strange Dream, their upcoming sophomore album, what they're all about, and what they're about to bring to the plate.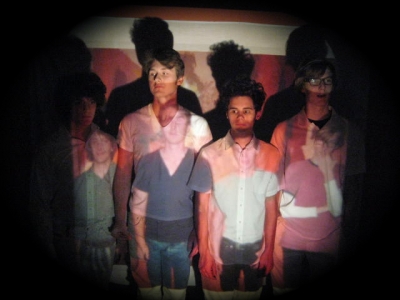 LitS: So, Sink Tapes, many people are curious as to what the origin of your band name is. Could you tell us?
Sink Tapes: It's probably better left unsaid. It's kind of one of those things that no one will understand. It's a name we decided to go with because we had already been called a few other things and we were forced to figure out what to call ourselves, and something just happened where we decided the name Sink Tapes. There's no meaning to it, but we had people telling us we should be "sync" tapes, but we like NOT making sense so it makes it fun, just like how our songs are. Just fun.
LitS: When did Sink Tapes first form as a band?
Sink Tapes: We probably started playing about two summers ago as Sink Tapes with our original songs. We first met through friends; none of us go to the same schools and we just started seeing each other at shows in the Asbury area so we decided to jam together on covers and what not. Eventually, we played a backyard show with a few bands and since then we just kept playing. I don't think we meant it to happen, but it slowly got serious yet fun, and now we're working on our second album.
LitS: Are your current members the original members?
Sink Tapes: Yes, it's just Alex, Ricky, Tom and I, just like it has always been. Alex goes to school in Maryland, which sucks, but whenever he comes home we make it a point to play shows as a four-piece.
LitS: So, when he's not around, you still perform with just the three of you guys?
Sink Tapes: We don't prefer to play with just the three of us because with Alex, we have a more complete sound, of course. But over a few months, we relearned how to play our songs as a three piece so we could continue to play while he was in Maryland so we don't slow down and we're able to keep process. When he goes to school in the fall, we definitely want to travel there and play a bunch of shows with him in his area. (more…)