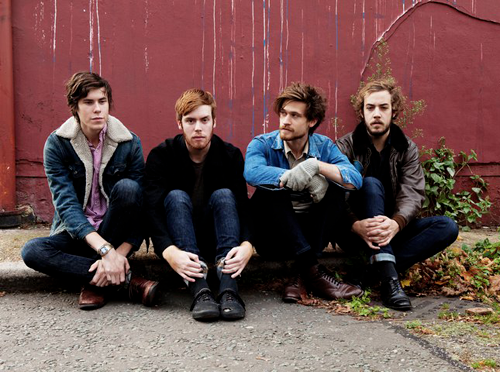 Now I've never been one to jump on new albums the second they come out. That's mostly because I'm fairly lazy and don't keep track of when certain things are actually being released.
Wild Nothing
somewhat recently released their second album
Nocturne
 under Captured Tracks. I wasn't too excited to jump right on this album because I can still groove to their first album Gemini released in 2010. So often, new albums ruin the band for me and I can just never dig the new music as much because the sound has always shifted. Yet at the same time I get frustrated when I see bands that don't know how to change their sound one bit and basically reproduce the same song over and over. Clearly the way I look at music is logical. Yet either way, I was positive that Wild Nothing would bring some chill nostalgic vibes just like they did in songs like "Summer Holiday" and "Chinatown" from their first LP.
Gemini had some great stand out songs but as all together it lacked the beautiful flow that these guys have now brought into Nocturne. After several listens to the new album, no song specifically stands out as being better than the rest; every song is solid. The songs are still incredibly catchy beats that are perfect for summer days.  And the album isn't one hit surrounded by a bunch of filler trash either — it's an experience of hip synth vibes and again, a really strong beat with the drums. That's one thing that I notice the most in Wild Nothing: the presence in the drums becomes quite dominant, all of the beats are put together beautifully; they give the song it's originality. You have to greatly appreciate the instrumental structure to their songs. Incredibly impressive are the variations of sound in songs like "The Blue Dress", which feel so much heavier but never out of place on their album.
These guys have been recently touring with Diiv, who also recently released a new album that is worth checking out.
Check out the song "The Blue Dress" below, from their new album.
Nocturne Tracklist:
01) Shadow
02) Midnight Song
03) Nocturne
04) Through The Grass
05) Only Heather
06) This Chain Won't Break
07) Disappear Always
08) Paradise
09) Counting Days
10) The Blue Dress
11) Rheya
To help raise money for the Japan Society's Earthquake Relief Fund, The Morning Benders have released Japan Echo EP featuring remixes from Star Slinger, Wild Nothing, and more. 100% of proceeds will be donated. Download and donate here.
"Last week we were scheduled to go to Tokyo to play our first show ever in Japan. It was going to be a very special trip for us, and for me in particular. I had always dreamt of going back to Japan to play music. Not many people know this, but I was actually born in Japan, and although I only lived there for a couple of years, I've always had a deep love for the country and its people. I cannot express how sad and helpless I've felt reading about everything that is happening there right now, and even though we couldn't be there, we wanted to do everything we could to help.
We love you Japan.
xo,
Chris"
Check out the track listing below.
Japan Echo EP (日本・エコー) Tracklisting:
1. Cold War (Star Slinger Remix)
2. Better In Blue
3. Hand Me Downs (Wild Nothing Remix)
4. Excuses (RAC Remix)
5. Mason Jar (Twin Sister Remix)
6. Wet Cement (Aislyn Remix)
7. Little Riot
8. Promises (Star Slinger Remix)