The Dangerous Summer – War Paint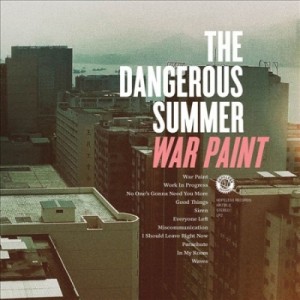 Released: July 19, 2011
Label: Hopeless Records
Purchase: iTunes | Insound | Amazon
For better or worse, we've all come to grips with the fact that life isn't always a smooth ride. Turbulence along the way is inevitable and in these rough patches, we're forced to find our own way. Sometimes, things just aren't worth the trouble. Sometimes, we decide to quit and move on. And thus, we put on our war paint and we march through the battlefield.
The Dangerous Summer are no strangers to the ups and downs of life. Between the release of 2009's Reach For The Sun and War Paint, they've had their fair share of struggle: the temporary departure of drummer Tyler Minsberg (who does not play on the album), the feud between guitarist Cody Payne and the now broken-up You, Me, and Everyone We Know, coping with their careers as musicians, and more. But instead of whining on their new record, the Maryland four-piece has crafted a timeless anthem of growth, struggle, and determination, all without appearing trite.
Title track "War Paint" opens the album with a rapid blare of drums and guitars, eventually easing off for vocalist AJ Perdomo to make his entrance. Right away, Perdomo's honesty and emotional delivery shine through, belting out "There's a lot on my plate / And the ones I loved stopped answering / They left me to find my self / In my own hate." Second track "Work In Progress" continues with even more intensity, providing an emotionally moving self-examination that rides out on a wave of reverb and deep panting. Musically, War Paintis the most varied that the band has ever been – one of the only flaws of their debut – a sentiment that is highlighted by the sharp transition from the dark "Work In Progress" to the relatively chipper sounding "No One's Gonna Need You More". Ironically, the song's subject matter is nowhere near as happy as it sounds ("Moving 'cross the country / I lost track of time / Trying to make a name for myself  / 'Cause every lonely heart / Can use an honest song / They can sing along to.") but the change in sound does provide a breath of fresh air.
The highly optimistic "Good Things" and lively "Siren" continue with the atmospheric blend of drums and guitars, with a greater emphasis placed on Bryan Czap's undulating lead guitar line on the latter. Standout track "Everyone Left" slows things down, while also demonstrating just how much the band's songwriting ability has improved, especially the lyrics of AJ Perdomo. While Perdomo has always been inclined to wear his heart on his sleeve, his visceral lyrics have begun to take a more poetic and abstract turn, painting an even more powerful image of his emotional and mental state. On "Everything Left" he questions, "When you decided to take it / What did you take from it? / Was it worth the heart involved? / The obstacles? / The chemicals? / I need to know what you're trying to see." and we wonder ourselves.
That's the beauty of War Paint. It's an album that we don't just passively enjoy, but one that we can all actively relate to; one that reminds us that no matter what life is throwing at us, we can put on our war paint and fight our way through.
9.2
Standout Tracks: "Work In Progress", "Siren", and "Everyone Left"
Out today (October 12, 2010) in the United States are the new Chiddy Bang, Sufjan Stevens, and You, Me, and Everyone We Know albums. All three are solid releases and should definitely be checked out.
Chiddy Bang's The Preview can be purchased on iTunes for $6.99. Read my review for The Preview here.
Sufjan Stevens's The Age of Adz is on iTunes for $9.99. Sufjan's latest features a new change in sound, taking a step away from his traditional folk music towards a more electronic style.
You, Me, and Everyone We Know's Some Things Don't Wash Out is currently on sale for $7.99 on iTunes. The band's debut release is a fun, catchy pop-punk record that captures the essence of the band's two free EPs while still demonstrating their emerging maturity.
You, Me, and Everyone We Know's new album Some Things Don't Wash Out is now streaming in its entirety on Myspace.