Balance and Composure vocalist/guitarist Jon Simmons took some time out of his busy schedule to answer a few questions. Having recently released Separation through No Sleep Records, the band is beginning to become very well known in the current music scene. Simmons talked about the response to the new record, upcoming tour plans, and the bands he supports. Check out the full interview below.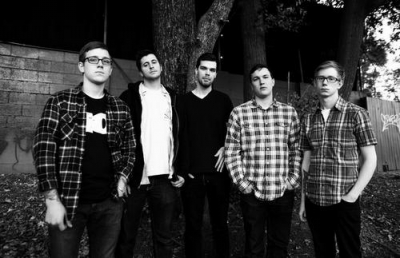 LitS: Firstly, could you list each member in the band and what they play?
Jon Simmons – Vocals/guitar
Andy Slaymaker – Guitar/vocals
Erik Petersen – Lead guitar
Matt Warner – Bass
Bailey Van Ellis – Drums
LitS: You guys just released your first full length, Separation, on May 10. What has the fans' response been like so far?
The fans' response has been unreal so far. We couldn't be happier with the reaction or the fact that our fans are so supportive by telling other people about the record. It is rare that I post about certain records people should check out, so the fact that so many fans have posted or spread the word about it is amazing to me. We feel pretty lucky to have such great supporters.
LitS: What was the recording experience like for you guys? Was it at all stressful?
Recording will always be stressful no matter what, but this was our easiest experience in the studio. We got to do what we always dreamed of doing, which was having a lot of time to experiment and record. We worked with Brian McTernan, and he really helped us grow as a band and as songwriters. We couldn't have asked for a better producer for our first full length.
LitS: You released 2 EPs and a split with Tigers Jaw before putting out this new full length.  Is there a reason you waited to put out an LP?
Well, we were going to do a full length before the Tigers Jaw split, but that opportunity came up, so we couldn't let that pass. It is better off that way, because it was probably a good idea to wait for the full length. We hate I Just Want To Be Pure, so with Only Boundaries and the split we wanted to find a new sound and gradually grow until we knew what Balance & Composure is going to sound like.
LitS: How do you think this decision affected fans' expectations concerning the full length?
To be honest, we weren't really concerned with that. We just wanted to write these songs for us, first and foremost. I think the fans like it, judging from the amazing responses so far. Do I know if this is what they were expecting? I have no clue. It's hard to look at your band from an outsider's point of view, but I'm so glad people can relate to our songs.
LitS: Speaking of these prior releases, each of your band's works really has a different sound and vibe. Is that a result of wanting to expand your sound musically or do you think it's also a reflection of how you've changed as people?
Yeah, sure. We're only getting older. We're going to change as people; it's inevitable, and the music will always reflect that.
LitS: All of your work contains some noticeable 90's music influences. Do you have a favorite band from that era?
Nirvana killed it, I feel.
LitS: Are there any current bands in particular that you guys really enjoy?
There are so many, actually. This is the first year in a while I have been excited about current music. My favorite release so far is the new Bon Iver record. It is so heavy in the most unique way. I honestly don't think I have ever been so excited about an artist in my life.  Such an amazing record that everyone needs to check out with an open mind. My other favorite releases are Title Fight's Shed, Manchester Orchestra's Simple Math, Cold Cave's Cherish the Light Years, Death Cab [For Cutie]'s Codes and Keys, and Fireworks'Gospel. I'm also really excited to hear the new Sainthood Reps LP, which comes out in August.
LitS: You have a short tour with Touché Amoré and White Wives coming up.  Are you looking forward to that?
DUH! Going to be so fun.
LitS: You also recently announced an Australian tour. Any more details you can share regarding that?
We're going there in August.
LitS: While on tour, what do you generally do to kill time?
Sleep, eat, play games, sing songs, listen to James Corbi speak truth.
LitS: The album artwork for Separation is really quite unique. Where did the inspiration for that come from?
We really wanted a sun and moon concept with the artwork, and so we googled some artists, and we found Jon Turner, who did a lot of really cool stuff with bodies having objects as heads. We thought a sun and moon would look great with a boy and girl body. So that was that. We also wanted something that was bright and would stand out, so people would remember it.
LitS: Thanks for taking the time to answer these questions. Anything else you'd like to add?
No problem, thanks for thinking of us. Check out Daylight, Title Fight, Tigers Jaw, Sainthood Reps, Touché Amoré, La Dispute, Make Do and Mend, Hostage Calm, and Seahaven.
You might also like: