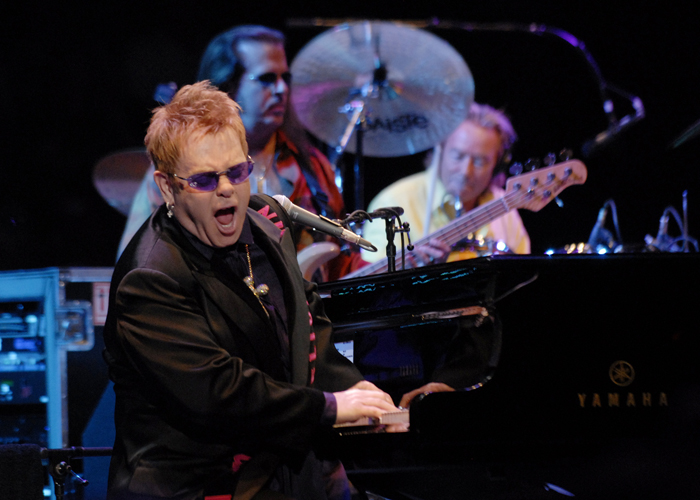 Over the past five decades,
Sir Elton John
has inspired and entertained millions with his songs and performances, selling over 250 million records worldwide. He's received countless Grammy Awards, knighthood from the Queen of England, been inducted into the Rock & Roll Hall of Fame, and to this day, still owns the record for the best-selling single in Billboard history with "Candle In The Wind 1997". Today marks the start of a new chapter in the celebrated artist's career with his new memoir 
Love Is The Cure
's publishing through Little, Brown and Company. In it, Elton discusses very personal details about his life and his struggles with fame, drugs, and most importantly, his ongoing quest to fight AIDS.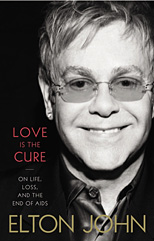 Today, I'm also very glad to announce a special giveaway between Lost In The Sound and Little, Brown and Company. To support Elton and his organization, the Elton John AIDS Foundation, we are giving away three copies of the new book to readers from either the US or Canada (sorry, no PO boxes!).
We'll be doing a random drawing in two weeks (July 31, 2012) to decide on three winners who will receive one copy each. How do you enter?
Like us on Facebook for one entry.
Follow us on Twitter for one entry. You can enter the contest twice by liking us on Facebook AND following us on Twitter.
THEN send an email to giveaway@lostinthesound.com with a link to your Facebook or Twitter so that we can match you. If you do not want to enter using Facebook or Twitter, you can simply email giveaway@lostinthesound.com and you will be given one entry.
On July 31, three winners will be emailed to obtain mailing information. Winners must be in the US or Canada and cannot have a PO box.
You can read more about the book below via press release.
—
For the first time ever Elton John tells his own intensely personal story. Filled with exclusive details about his relationships with famous friends like Elizabeth Taylor, Freddie Mercury and Princess Diana, LOVE IS THE CURE (Little, Brown and Company/July 17, 2012/ISBN: ) is a truly revelatory look at one of the world's most beloved singers and songwriters.   LOVE IS THE CURE is a deeply personal account of his life during the era of AIDS and an inspiring look at what we must do to bring the epidemic to an end.
In the 1980s, Elton John saw friend after friend, loved one after loved one, perish needlessly from AIDS. In the midst of the plague he befriended Ryan White, a young Indiana boy ostracized by his town and his school because of the HIV infection he had contracted from a blood transfusion. Ryan's inspiring life and devastating death led Elton to two realizations: His own life was a mess. And he had to do something to help stop the AIDS crisis.
Since then, Elton has dedicated himself to overcoming the stigma of AIDS and finding a cure. For the past 20 years he has done this through the Elton John AIDS Foundation, which has raised and donated $275 million to-date to fighting the disease worldwide. With powerful conviction and emotional force, Elton conveys the personal toll AIDS has taken on his life, and his infinite determination to stop its spread.
Elton John says, "This is a disease that must be cured not by a miraculous vaccine, but by changing hearts and minds, and through a collective effort to break down social barriers and to build bridges of compassion. Why are we not doing more? This is a question I have thought deeply about, and wish to answer-and help to change-by writing this book."  Sir Elton John's first book is a deeply personal account of his life during the era of AIDS and an inspiring look at what we must do to bring the epidemic to an end.
The sale of Love Is the Cure will benefit the Elton John AIDS Foundation. The Elton John AIDS Foundation (EJAF), founded in 1992, has raised $275 million to fight the AIDS epidemic and help those affected by it. EJAF has supported hundreds of projects focusing on marginalized, stigmatized, and at-risk populations in 55 countries. EJAF is one of the largest AIDS grant-making organizations in the world, and the largest in the UK.