Yellowcard – "Ocean Avenue Acoustic"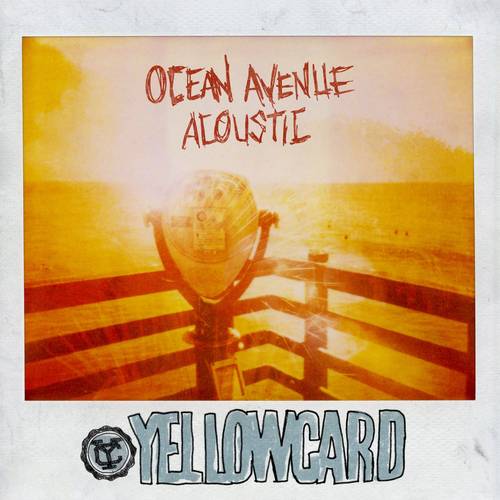 Released: August 13, 2013
Label: Hopeless Records
Purchase: Digital | CD
Pop punk band Yellowcard have been considered by many to be one of the most iconic pop punk bands of the new millennium, their powerful melodies and catchy choruses taking the country by storm. The same people almost all agree that their 2003 album Ocean Avenue is their most memorable work; songs such as Only One, Breathing, Back Home, and (of course) the title track itself topped the playlists of our childhoods. And to celebrate its 10 year anniversary, the band have decided to release a "re-imagining" of all thirteen Ocean Avenue tracks in a new acoustic album–a piece of art that invokes both nostalgia and innovation.
One of the most impressive features of Yellowcard songs has always been the inclusion of the violin (thanks to Sean Mackin), a long-considered classical instrument that meshed perfectly with the band's modernized songs. Ocean Avenue Acoustic continues to masterfully use this amazing instrument, from the strong notes in the beginning of Believe and in the chorus of Breathing to the much more reserved but equally impactful tunes in Only One and Empty Apartment. All in all, the violin that got us loving Yellowcard in the first place does not disappoint in the new album and continues to add strength to each song.
Regarding the songs themselves, Yellowcard manages to create a new breed of intensity in some of their more explosive songs. The sound of the acoustic Way Away is just as enormous as its older counterpart, but in a different way; while there isn't as much overwhelming noise that highlights pop punk, the speed and brawn of the acoustic instruments evoke a sense of desperation and excitement that is just as empowering as the feelings received from the original 2003 version. The same can be said for Miles Apart, Life of a Salesman, View From Heaven, and Ocean Avenue itself. And on the other side of the spectrum, emotionally riveting tracks such as Only One, Back Home, and Empty Apartment have become even more moving. Their softer melodies paint the message of their songs, whether it's loss of love or the falsity of an expectation, in a way that feels even more genuine and true than before.
Holistically, Ocean Avenue Acoustic takes thirteen amazing songs and alters their sounds to make dissimilar but equally powerful songs. Not only do the songs lend heavy doses of nostalgia and remembrance for the songs that help define a decade, they feel refreshing and new when one listens to them. Overall, this album, being both the same and different as the groundbreaking album ten years ago of the same name, deserves a rating equivalent to the original Ocean Avenue.
9.5
Standout Tracks: "Back Home," "Only One," "Empty Apartment," "Breathing," "Miles Apart," "Ocean Avenue"
Track listing:
01. Way Away (Acoustic)
02. Breathing (Acoustic)
03. Ocean Avenue (Acoustic)
04. Empty Apartment (Acoustic)
05. Life Of A Salesman (Acoustic)
06. Only One (Acoustic)
07. Miles Apart (Acoustic)
08. Twentythree (Acoustic)
09. View From Heaven (Acoustic)
10. Inside Out (Acoustic)
11. Believe (Acoustic)
12. One Year, Six Months (Acoustic)
13. Back Home (Acoustic)