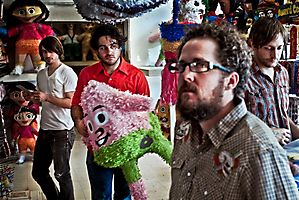 A couple of weeks ago I made a post-rock playlist for 
MiaoMix
 and included "Quiet" by 
The Calm Blue Sea
. That was a song that really blew me away the first time I listened to it. I recently got the chance to talk with Steve (drummer) and Kyle (bassist) from the band. We talked about working on new material, the music scene in Austin, comparisons to other post-rock bands, and more. They were really nice guys and it was a pleasure to get the chance to talk with them. Steve started out the interview and then Kyle came in about halfway into the interview.
What are your names and specific roles in the band?
Steve: I'm Steve and I play drums and we all write.
So you and Kyle (bassist) were both there when the band started?
Steve: I guess I'm an original member and Kyle is not. He's our 2nd or 3rd bass player, but he's been with us since 2009 so I don't think he's going anywhere.
Why did you guys choose the name The Calm Blue Sea?
Steve: Okay, I have no explanation for that. Maybe Chris does, but they had it when I got in already. (more…)
Last week's MiaoMix was full of electro party songs, so this time I made a more chill mix to listen to. This week, I put together a post-rock playlist. For people who are not familiar with the genre, post-rock is similar to rock but it ignores the typical song structure that rock music has. Most post-rock songs rely on quiet arpeggios and simple chord progressions which build up to powerful crescendos. Most songs are also instrumental, so this music is great for studying. Listen to the playlist below. (Some songs are really long. Sorry.)
miaou – "Intro"
Sigur Rós – "Hoppípolla"
The Calm Blue Sea – "We Happy Few"
múm – "Green Grass of Tunnel"
This Will Destroy You – "Quiet"
Mogwai – "Auto Rock"
pg.lost – "Yes I Am"
Explosions in the Sky – "So Long, Lonesome"