The Joy Formidable – The Big Roar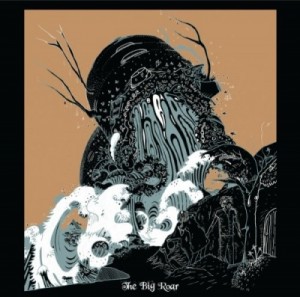 Released: March 15, 2011
Label: Canvasback/ATL
Purchase: iTunes | Insound | Amazon
Do you remember that feeling you had the first time you heard the explosive chorus of "Adam's Song"? So much passion and energy was wrought by just a few simple power chords. Although that was years ago and the magic has waned, The Joy Formidable, a three-piece band from Wales seeks to recreate that epic feeling on their debut The Big Roar and succeeds wondrously.
Although Roar is technically their debut, TJF are no strangers on the indie scene. Formed in 2007, they have gained popularity through the release of numerous singles and the mini-album A Balloon Called Moaning, not to mention a moderate amount of notoriety for having a video banned from YouTube. In fact, half of Balloon's songs have been re-vamped for Roar, and what were good songs before have been turned into near-masterpieces, fitting in with the rest of Roar.
The band jumps right out of the gate with "The Everchanging Spectrum of a Lie," evoking the fuzzy sounds of Silversun Pickups and The Smashing Pumpkins. Upon hitting the chorus, however, The Joy Formidable distinguish themselves from these influences. Where Smashing Pumpkins are brooding and Silversun Pickups are atmospheric, TJF have a constant intensity. The song ends with an instrumental buildup that transcends the sound of headphones or speakers, a sound that demands to be heard live.
This transcendent feeling emerges time and time again on Roar. "Cradle" is pop perfection- clapping along feels mandatory. The chorus of "Chapter 2" is such a simplistic progression, but it feels fresh and huge. "Whirring" also employs a lengthy instrumental breakdown that builds up the sound to epic proportions.
Relying on a huge sound in song after song would make them a one trick pony, but TJF is incredibly creative in their musicianship as well. They don't write songs based on a variety of riffs, and one would think that their fuzzy sound would grow monotonous quickly, but it doesn't. They manage to make great songs through the creative use of their simple tools.
For example, "Whirring" uses only three notes in its main line, but different accents on repetitions and the changing backing guitar chords create interesting layers. "Austere" is driven by the drum beat and bass line and has no real chorus. "Llaw=Wall" is a dualistic song, as indicated by the title. The first half is soft and atmospheric, but explodes in a wall of sound halfway through. In the midst of this, there is a beautiful, brief pause to deliver the line, "You're the ugly truth." A couple of verses, choruses, and a bridge rarely appease The Joy Formidable.
Another strength of the band is a charismatic, talented frontwoman. The adorable Ritzy Bryan blazes on the guitar, and her vocals are among the best in indie rock. She has a great amount of versatility in terms of both range and in the emotion of her singing.
This isn't to denigrate the accomplishments of the other band members, though. Bassist Rhydian Dafydd takes center stage and carries songs such as "Austere" and "A Heavy Abacus." Drummer Matt Thomas provides the consistently impressive backbone to each song and shines through especially in the furious "I Don't Want to See You Like This" and the double-bass section in "Whirring."
The lyrics don't always reach the high bar set by the music and vocals. They often have a certain poetic imagery about them, but while some lines are straightforward, others are moderately baffling ("Abacus, haunting me/Abacus, watching me").
The only other mild complaint is that a couple of songs don't have as much strength or lasting power as others. "A Heavy Abacus" is a mid-tempo number that relies on a lot of power chords and lacks the punch of other songs. "Buoy" may have better served as a softer number to come down from the powerhouse "Whirring" right before it, but instead just feels overshadowed as it is.
These are only minor faults with an album great on so many levels. The vocals, musicianship, and big sound make The Big Roar an excellent debut and The Joy Formidable a band to watch in the coming years.
9.1
Standout Tracks: "I Don't Want to See You Like This," "Whirring," "Cradle"
You might also like: