Beach Fossils – Clash The Truth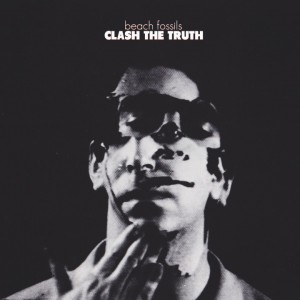 Released: February 19, 2013
Label: Captured Tracks
Beach Fossils sophomore record Clash The Truth is set to be released on February 19, 2013. Following their self titled release in 2010, Beach Fossils became well known for their catchy Jingle Jangle styled guitar riffs in songs like "Sometimes" as well as their electrifying stage presence. After several members moved on to side projects, Dustin Payseur began writing Clash The Truth  "determined to capture the urgency, human flow and spontaneity of the live performance." This goal for the record  has shown to be a trouble for many bedroom recording styled bands. Many lo-fi bands have spectacular albums, but the dreamy and somber melodies don't  always translate to a live show.  Yet with this presence of urgency, Clash The Truth doesn't lack in energy throughout every track.  The excitement in the tracks give off a punk rock experience with a shoe-gaze styling.
The progression of Beach Fossils sound in Clash The Truth is near perfect, they translated the lo-fi bedroom recording style to a well tuned studio project. I initially had some fear that their highly praised vibes would lose their originality, yet the album beautifully captures Dustin's vision. Clash The Truth is much more instrumentally complex than the records before; with each track standing out more individually, yet still creating one complete record. This is most prevalent in songs like "Sleep Apnea" that bring in a more acoustic presence whereas "Caustic Cross" has  more energy and power in the guitar. Another great addition to the album is the development of the drums. The drums are much more established in the album, "the drums were recorded live in a room with Dustin on bass to give the album a driving and energetic force." In previous records the drums have a presence but appeared to be very simple,  I never found myself mesmerized by the beat.
While this album is one of my favorites, and well deserving of a listen, there are some weaker points to the album. Oddly enough, I felt the title track along with the previously released track "Shallow" didn't live up to the rest of the album. When Shallow was first released a year ago, it wasn't as enchanting as songs like "What A Pleasure". It generated no anticipation or excitement for the rest of the album. The title track is a nice melody that eases into the rapid pace of the album, yet I felt a lack of connection with the song. It has a catchy aspect to it, yet that wasn't a highlight for me.
Following the release of Clash The Truth, Beach Fossils will begin touring through the US and Canada. All of the tour dates can be found on their Facebook Page. The song "Careless" is available for free Stream or Download below.
8.0
Standout Tracks: "Sleep Apnea", "Crashed Out", "Generational Synthetic"
Tracklisting:
1. Clash the Truth
2. Generational Synthetic
3. Sleep Apnea
4. Careless
5. Modern Holiday
6. Taking Off
7. Shallow
8. Burn You Down
9. Birthday
10. In Vertigo [ft. Kazu Makino]
11. Brighter
12. Caustic Cross
13. Ascension
14. Crashed Out
You might also like: