Maybeshewill
For Fans Of: 65daysofstatic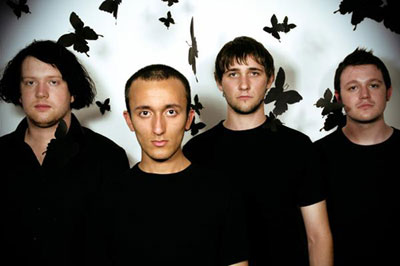 Maybeshewill
 play a unique brand of instrumental post-rock, drawing from electronic, metal, and progressive influences. The band, based in Leicestershire, Great Britain, is reminscent of a more riff-based, guitar-oriented 
65daysofstatic
, resulting in a well-developed sound which truly sets them apart from their peers. The added use of strings on tracks such as "To The Skies From A Hillside" lends their music a dramatic, almost theatrical (though not in a campy way) tone. Melodic piano lines are often utilized as well, creating some absolutely gorgeous soundscapes, most notably on "Red Paper Lanterns", in which bell tones harmonize with the piano to create a modern day post-rock masterpiece. Whilst post-rock seems to progressively become more and more crowded with similar-sounding bands, Maybeshewill strive to incorporate originality into their compositions.
Their newest album, I Was Here For A Moment, Then I was Gone, released May 30th of this year, continues the sonic progression of their last few releases, leaving the listener to bask in the somber heaviness and more subdued, melancholic moments that prevail throughout the ten tracks. Good for those chill-out moments at home when surfing the web on sites like PartyPoker España or social networking.
Listen to "Red Paper Lanterns" here:
65daysofstatic have partnered with The Quietus to give away a new track titled "PX3". The track will be released on the band's new Heavy Sky EP on October 25, 2010.
Check out the song and a Q/A with the band here.
Read below to see tour dates for 65daysofstatic's UK/European Tour.
October 6 -Central Station, Wrexham
October 7 – New Slang, Kingston
October 8 – Concorde 2, Brighton
October 9 – Vera, Groningen (Holland)
October 10 – Swingfest, Essen (Germany)
October 23 – Brainwash Festival, Leeds (DJ set)
November 7 – Effenaar, Eindhoven (Holland) – with Civil Civic and Nedry
November 8 – Hafenklang, Hamburg (Germany) – with Nedry and Tall Ships
November 9 – Lido, Berlin (Germany) – with Nedry and Tall Ships
November 10 – Blue Note, Poznan (Poland)
November 11 – Conne Island, Leipzig (Germany) – with Nedry and Tall Ships
November 12 – Schüür, Lucerne (Switzerland) – with Civil Civic
November 13 – Kiff, Aarau (Switzerland) – with Civil Civic
November 14 – Tunnel Club, Milan (Italy) – with Civil Civic
November 16 – Nouveau Casino, Paris (France) – with Nedry and Tall Ships
November 18 – La Botanique, Brussels (Belgium) – with Nedry and Tall Ships
November 19 – Melkweg, Amsterdam (Holland) – with Nedry and Tall Ships
November 20 – Joiners, Southampton – with Kong
November 21 – Arts Centre, Norwich – with Kong
November 22 – O2 Academy, Oxford – with Kong
November 23 – O2 Academy, Leicester – with Kong
November 24 – Palace, Aldershot – with Kong
November 25 – Academy 2, Manchester – with Kong
November 26 – CAMP, London – with Kong