So… this is a thing that happened…
For no discernible reason, Jack White has teamed up with the Insane Clown Posse and JEFF the Brotherhood to pay homage to the German affinity for all things anal[Editor's note: Mozart's "Leck Mich am Arsch"]. Since it's been heavily reported and corroborated (and filmed), I'm relieved to note that this just wasn't another fever dream resulting from an afternoon spent imbibing absinthe and pop rocks while filling out Mad Libs with the aid of a stack of Spin back issues.
While I can see ICP's desire to work with actual artists, I'm more puzzled by White's involvement. Perhaps the recent disbanding of the White Stripes has left him with an excess of free time, and lord knows there are only so many "interesting" mustaches you can grow. And I suppose JEFF the Brotherhood jumped at the chance to work with White but were (perhaps) not privy to all the details. (JTB walks into studio, sees ICP: "What the hell are you doing here? ICP: "Who the hell are you?")
But, nonetheless, it has happened and there's video proof. Enjoy?
And then there's this:
Deftones' frontman Chino Moreno decides to throw his goatee into the ring and cranks out a witch house EP under the name †††. There's nothing quite like an interloper insinuating himself into the genre du jour. This move will undoubtedly result in the unfortunately not-rare-enough double backfire as diehard Deftones fans reject this faster than a Canadian health care recipient's body rejects a black market kidney. And the cool kids of death™ will have nothing to do with this nu-metal tourist.
See also: this statement from †‡† (a.k.a. Ritualz), who is upset that Moreno is stealing Unicode. The comment thread has clearly been given over to Deftones fans, whom I would gently like to remind that the band name is properly pronounced "Deft Ones."
Thursday – No Devolución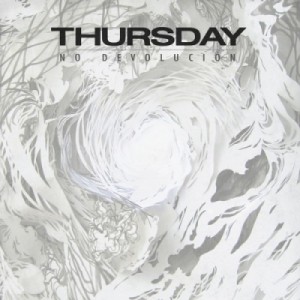 Released: April 12, 2011
Label: Epitaph Records
Purchase: iTunes | Insound | Amazon
When pre-release songs from No Devolución started streaming online, certain fans decried the notable change in Thursday's sound. The band has steadily inched from intense to atmospheric since the introduction of synthesizers in A City by the Light Divided. Two albums later, the synths are now the defining part of the sound. Contrary to these fans' response, though, this style, when coupled with their best lyrics in years, feels like a natural progression that is still a perfect fit for the band.
"No Answers" is most demonstrative of this new sound, with drums backing thick synths and only minimal, yet still effective, guitars until the chorus. The atmosphere created by these perfectly-balanced textures complements the lyrics, which give a feeling of both intimacy and reluctant distance.
More often than not, the guitars take backseat to the other instruments in general, not just the synths. The drums and heavy, active bass drive the music much more frequently than they ever used to, such as in "A Darker Forest" and the U2-reminiscent "Sparks Against the Sun."
This is not to say that the band has completely abandoned its post-hardcore roots, however. "Open Quotes" is purely vintage Thursday, faltering only when it hits the underwhelming chorus. "Turnpike Divides" pays homage not only to their New Jersey origins, but their earlier sound with heavier guitars and the blend of singing and screaming in the chorus.
The balance between heavy and atmospheric has produced some of Thursday's best songs in years. "Sparks Against the Sun" mixes a distorted bass line with an meaningful piano progression to create a song that's engaging before the singing even begins. The pre-chorus is extended so listeners can bask in the music before building up with a two measure synth line, leading to a powerful chorus.
"Past and Future Ruins" begins with a minute of anticipatory guitars and atmospheric noises until the intense drums kick in. The vocals and drums carry the song until the explosive chorus, which culminates in some of the darkest music and loudest howling that Thursday has every produced. Adding to this power are the excellent lyrics, a lamentation of our increasingly artificial culture.
No Devolución's lyrics are also an excellent return for the band, yielding some of their best since their 2001 masterpiece Full Collapse. They cover universal themes such as broken relationships and satisfaction with one's life, such as when "A Gun in the First Act" asks, "Do you find sleep comes easy / dancing with the empty silhouette of everything?" Even when one can't discern a specific meaning, the careful word choice almost always sounds meaningful.
In fact, the lyrics are so integral to the album that they are a necessary part of many songs. As musically wonderful as almost every song is individually, some may have a tendency to sound similar or blend together were it not for the lyrics to give each a subtle personality.
The only songs that come up short in lyrics are the musically peppy "Millimeter" and "Magnets Caught in a Metal Heart," the latter of which is weakest in terms of music as well. For a lighter song, it doesn't use the synths as one may expect and Geoff Rickly's vocals sound uncharacteristically bland.
The change in style has also hurt Rickly's vocals on the whole. He employs an atmospheric moan in many songs, even sounding similar to Deftones' Chino Moreno in the chorus of opener "Fast to the End." With the exception of the two songs involving screams and the beautifully raw, stripped-bare "Empty Glass," there is a general lack of dynamic range throughout the album.
Almost anticipating fans' response to the album, the epic closing track "Stay True" reminds listeners to not sell out, to remain who they are. Looking beneath the musical surface, the soul of Thursday has followed this advice and remained true to itself. No Devolución is an excellent, progressive step forward for a band that appeared to have their best work already behind them.
8.9
Standout Tracks: "Sparks Against the Sun", "Past and Future Ruins", and "A Gun in the First Act"