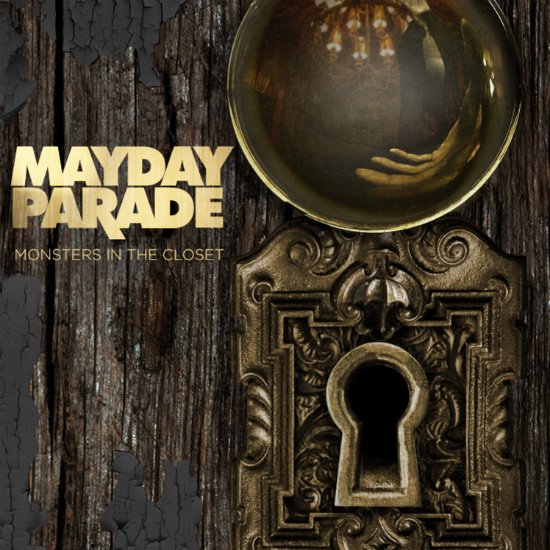 Mayday Parade
has just released information on their highly anticipated upcoming album, officially titled
Monsters In the Closet.
Since March of this year, the Floridian rock outfit had been uploading studio updates onto
Youtube
; the videos themselves hold some information regarding the new album, including the
"names" of the songs on the album on a whiteboard
(which are most likely, however, shortened or placeholders).
Monsters in the Closet
was produced by Kenneth Mount and Zack Odem (
All Time Low
,
The Summer Set
,
We Are The In Crowd
) and is scheduled for release via
Fearless Records
around October 8th.
Along with the news of the album came information on a new tour, where Mayday Parade will be headlining the Glamour Kills Tour 2013. Considering the dates of the tour ensue the release of the new record, you can probably expect new songs to be performed live!
Tour Dates:
OCT. 11TH FREEBIRD JACKSONVILLE, FL
OCT. 12TH MASQUERADE ATLANTA, GA
OCT. 13TH ROCKETOWN NASHVILLE, TN
OCT. 15TH AMOS SOUTHEND CHARLOTTE, NC
OCT. 16TH THE NORVA NORFOLK, VA
OCT. 17TH BEST BUY THEATRE NEW YORK CITY, NY
OCT. 18TH THE ELECTRIC FACTORY PHILADELPHIA, PA
OCT. 19TH STARLAND BALLROOM SAYREVILLE, NJ
OCT. 20TH BALTIMORE SOUNDSTAGE BALTIMORE, MD
OCT. 22ND WEBSTER THEATRE HARTFORD, CT
OCT. 23RD HOUSE OF BLUES BOSTON, MA
OCT. 24TH LOST HORIZON SYRACUSE, NY
OCT. 26TH THE INTERSECTION GRAND RAPIDS, MI
OCT. 27TH ST. ANDREWS HALL DETROIT, MI
OCT. 29TH BOGARTS CINCINATTI, OH
OCT. 30TH HOUSE OF BLUES CLEVELAND, OH
OCT. 31ST HOUSE OF BLUES CHICAGO, IL
MAR. 28TH THE TROUBADOUR WEST HOLLYWOOD, CA
NOV. 1ST THE RAVE MILWAUKEE, WI
NOV. 4TH THE SUMMIT DENVER, CO
NOV. 5TH IN THE VENUE SALT LAKE CITY, UT
NOV. 7TH EL CORAZON SEATTLE, WA
NOV. 8TH THE RIO VANCOUVER, BC
NOV. 9TH WONDER BALLROOM PORTLAND, OR
NOV. 11TH SLIMS SAN FRANCISCO, CA
NOV. 12TH ACE OF SPADES SACRAMENTO, CA
NOV. 13TH HOUSE OF BLUES LOS ANGELES, CA
NOV. 14TH HOUSE OF BLUES ANAHEIM, CA
NOV. 15TH HOUSE OF BLUES SAN DIEGO, CA
NOV. 16TH HARD ROCK ON THE STRIP LAS VEGAS, NV
NOV. 17TH THE MARQUEE PHOENIX, AZ
NOV. 19TH HOUSE OF BLUES DALLAS, TX
NOV. 20TH HOUSE OF BLUES HOUSTON, TX
NOV. 21ST BACKSTAGE LIVE SAN ANTONIO, TX
NOV. 26TH SIDEBAR THEATER TALLAHASSEE, FL
NOV. 27TH THE ORPHEUM TAMPA, FL
NOV. 29TH HOUSE OF BLUES ORLANDO, FL
NOV. 30TH REVOLUTION FT. LAUDERDALE, FL
Pop rockers All Time Low are currently gearing up for their "Gimme Summer Ya Love" Tour in support of their new album, Dirty Work. We've partnered with the band to give a pair of tickets away to one fan on each date of the tour. Five of these winners will then also receive a copy of Sims Generation, which includes "I Feel Like Dancin'", the first single from Dirty Work.
All Time Low will be joined by The Starting Line, Cartel, Mayday Parade and a number of other bands. Interested?
Enter the contest here. The contest ends July 20th and the tour begins on the 25th, so act now.
Since taking a break in 2008 to focus on separate projects, The Starting Line have been engaging in much activity in recent time, hinting that the band may be back together, and even possibly working on a new album. They have announced a few playing dates with All Time Low for their, "Gimme Summer Ya' Love" tour, which will be played with other bands such as Cartel, Mayday Parade, and a few others. The official statement from Matt Watts, lead guitarist, is below:
"I just happened to read all the tweets and postings about everyone's excitement about the TSL "break" being over. First off, I'd like to thank everyone for the excitement and enthusiasm, it really means a lot! It wasn't intended to sound like an official announcement that the break is over, we all felt like it was over once we started playing shows again, but I guess hadn't publicly acknowledged so.
So to address it:
As you've probably noticed, TSL has become slightly more active, and we even have a few new songs in the works. The main reason behind the break was to take some time and evaluate things, touring for 8+ years got really exhausting and we all needed to take a step away to see if TSL was something that we all still loved and wanted to pursue. After taking a much needed break, we're all at a point where we truly love and appreciate what we were able to do together, and genuinely miss playing shows, writing, and being around one another.
Playing shows with the band, and even just getting together to hang out has been more fun than ever, everything is feeling great and natural, and seems as exciting as when we first started out. There's just an undeniable chemistry and energy present that seemed to be lacking near the end of things.
That being said, we're playing more shows and writing new music, but there's no specific timeline that we're on, nor do we have any real plans (as of right now), to be touring full time. That doesn't mean that we won't be playing shows in your city/town, it just means that we probably won't be taking a traditional approach to touring and being an active band. All of us have various things and commitments happening in our lives that aren't really conducive to year round touring. However, we do plan on playing shows more frequently and (slowly) working on a new album at some point. We're also trying to figure out a way to get to some of the cities that we haven't played since we went on "break" (talking to all of you on the West Coast).
We'll keep you guys updated on any new developments!"