Bands: Mogwai, Wang Wen
Location: Shanghai, China's MAO Livehouse
Date: November 28, 2011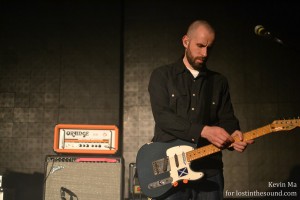 Opening for a band you've revered for years and based your own music on must be one of the hardest things in the world. The other night, Chinese post rock band Wang Wen was put up to this very task when they solemnly took the stage as support for Glaswegian five-piece Mogwai, who were making their very first appearance in Shanghai.
And for the most part, they held their own, warming up the crowd for the main act. Aside from being surprised by the occasional, shrieking outbursts of the Shanghai concertgoers, Wang Wen found themselves enjoying the attention of a good-natured crowd hungry for some solid instrumental music. As they worked through their tremolo-heavy set, however, it became clear that people were aching to see Mogwai take their turn and the Chinese band good-naturedly wrapped things up, leaving the crew to set up and the venue to buzz excitedly about what was to come.
With a flash of lights and a blast of smoke, Stuart Braithwaite announced his band's triumphant appearance with a few thank-you's and waves. With that, Mogwai launched directly into Hardcore Will Never Die, But You Will's opening track "White Noise". Complemented by the hazy, smoke-filled venue's dazzling light show, Mogwai's music hit hard, sending the crowd into uproar.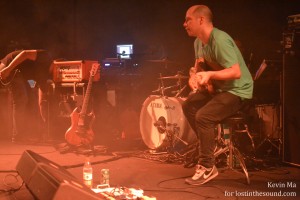 Throughout the entire set, they played a lot of old fan-favorite songs that weren't on the new album such as "Mogwai Fear Satan", "Auto Rock", and "Glasgow Mega-Snake". Each transition was masterfully planned out and it ultimately became remarkable to see Mogwai seamlessly switch from a mellow tone to one that might appear at a metal concert. The build-ups of each song were probably the most impressive aspects of the show, something the band has been heralded for in the past. And from seemingly out of nowhere, Mogwai in unison would shock the crowd with a massive drop, blasting a chord or riff at maximum volume.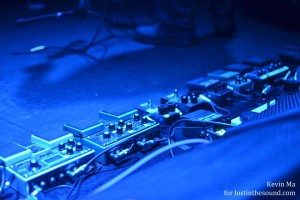 Perhaps the weirdest part of the night was the end of the final twenty-minute-long encore. Pumped by the adoration of the crowd, Braithwaite began a relentless wave of, well, sound. With around five different distortion pedals laid in front of him, Braithwaite would press each one in order to intensify the escalation of the song. As he fiddled with the pedals and his amp, he refused to end, building up layer after layer of fuzzy, heart-thumping noise. Ten minutes and a few broken strings later, he finally decided enough was enough and walked off the stage with the sound still going, leaving the crowd dumbfounded but thoroughly impressed by the craftiness of the guitar legend.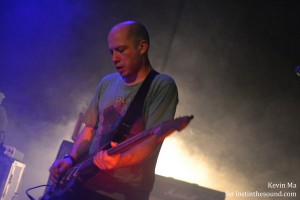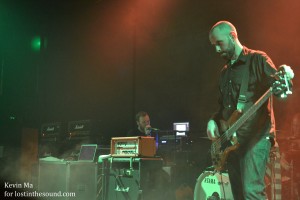 All photos by Kevin Ma
Setlist:
01. White Noise
02. Ithica 27 – 9
03. How To Be a Werewolf
04. I'm Jim Morrison, I'm Dead
05. Mexican Grand Prix
06. Helicon 1
07. Auto Rock
08. You're Lionel Richie
09. Friend of the Night
10. Hunted By A Freak
11. Mogwai Fear Satan
12. Batcat
Encore:
01. My Father, My King
You might also like: