Band: Blink-182
Location: London, England's Brixton Academy
Date: July 25, 2012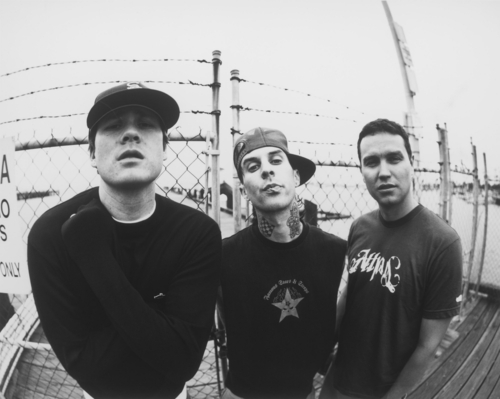 The sun certainly made
Blink
feel welcome to London, as it looked more like Coronado Beach than Brixton last night for their last gig in the UK this tour. The fans were out in the skimpiest of summer clothing as this is the first real week of summer London has yet to see; vests, shorts and converse were the most popular combo, but the ladies were not afraid to show a bit of flesh even during the proceedings of the gig. The boys, touching late 30's were still happy to see that the females were as eager to show a bit of under-garment as they did back in the late 90's when the band were busting out tunes like "All The Small Things" for the first time.
Brixton Academy certainly looked at its finest last night with a set up that you'd presume a relatively new band would be gracing the stage with, but no, they just want to show the fans a good time and that's exactly what happened, with the band been no less than 20ft away from the front row. The venue was rammed and it was time for the support slot to come on; Watford born boys Lower than Atlantis gave it a shot and to be fair to the boys, they did pretty damn well. I mean, it's not gonna be easy supporting any big band when you're the only support slot on, but having to warm the crowd up for Blink, I have to give them a pat on the back, frontman 'Mike Duce' certainly gave it his all and then some. At one point even trying out a classic 'Hulk Hogan' ear salute to the crowd, and when it failed replying, "That was a tad Butlins wasn't it?" and a lot of people had time for that kind of banter. Although, their actual playing and performance didn't meet up to the mark and I would have liked to see someone more tight and professional filling that 30 minute slot they luckily received from God knows where. LTA seem like a great bunch of guys, but come on promoters, supporting Blink, wake up and listening to the great bands out there that deserve this instead of putting some FAD on that won't last more than three years from now.
So it was time for Blink to come on as the black curtain of excitement drops, everyone's screams simmer into the pits of their stomach where the butterflies have been dwelling, waiting to burst out full throttle back and forth across the room. Get ready for action, "Feeling This" opens the set and fans automatically charge towards the front, crowd surfing along the 5000 people venue. The atmosphere was never tainted with any negativity as everyone was enthralled with the spectacular and legendary pop punk band stood before them. It just got bigger and better for fans as they did not stop playing hit after of hit with classics such as; "All The Small Things", "What's My Age Again?", and "Man Overboard". They even intervened with an acoustic set of four songs including "Going Away To College" and "Roller Coaster", which was a new experiment for Blink to try out this tour and they knocked it out the park and had fans dancing throughout. Travis even played "Can a Drummer Get Some?" off of his own debut solo album which had fans going wild throughout the venue.
Mark, Tom and Travis' relationship seemed like it was better than ever. Mark was the most talkative of the bunch and often spoke to the crowd getting them warmed up even more so than needed. Tom and Travis had a little mix up during the set, as timing was of the essence; luckily it was just during "The Blowjob Song". Tom went on to say on twitter last night; "I think this is the best time of Blink 182's career, and we will be carrying on doing great things in the near future." I hope they do as this is band that will never get old even with the next generation of music lovers to come. I'm happy I got to see this band during this point of this career.
Setlist:
Feeling This
Up All Night
The Rock Show
What's My Age Again?
Down
I Miss You
Wishing Well
Dumpweed
Always
Violence
After Midnight
First Date
Blow Job
Heart's All Gone
Blow Job
Man Overboard
Fuck a Dog
Ghost on the Dancefloor
All the Small Things
Josie
Acoustic set:
Reckless Abandon
Going Away To College
Dick Lips
All of This (without Robert Smith)
Encore:
Can a Drummer Get Some? (Travis Barker drum solo)
Carousel
Dammit
Family Reunion
Call Me Maybe (Carly Rae Jepsen cover)
You might also like: