We Are the Ocean – Cutting Our Teeth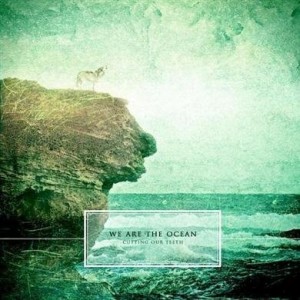 Released: February 1st, 2010
Label: Hassle Records
Purchase: iTunes | Amazon
I was first introduced to We Are the Ocean when they supported the Thrice UK tour. I was won over by their larger-than-life performance and immediately dubbed them 'The British Alexisonfire'. The vocals were excellent, the songs energetic and contagious and the personalities of the band members really came across on stage. The 'British Alexisonfire' tag gives you an indication of the style of music on offer: quick paced post-hardcore with screamed verses and cleanly sung choruses.
Unfortunately though, We Are the Ocean suffer the same issue that others before them have fallen prey to: the energy in their live performance doesn't translate onto record. Two of the highlights from the live show were the screamed vocals and the uplifting songs, which helped catch my attention. Live, the screamed vocals were passionate and intense, however on record they become monotonous and predictable, which does little to prevent the songs bleeding together as one. The uplifting songs loose their elevation and end up sounding flat, which is exacerbated by the predictable songwriting pattern that stays pretty much constant throughout the ten tracks.
With that said, there are strong points on this album that really deserve praise. The band's greatest asset by far is vocalist/guitarist Liam who provides the clean vocals. His voice is reminiscent of Dallas Green from Alexisonfire, both in terms of tone and flawless live execution. Each song on the album contains a very strong chorus, punctuated by Liam's excellent vocal delivery, which provides several memorable moments on the album.
There may be elements that hold the album back, but it's fair to say there are no bad songs on offer. Each song provides sufficient enjoyable moments to keep me interested throughout the album. Yes, the songwriting formula has been heard several times before, and the music may be lacking in originality, but there is clear potential here for something very special if only the band could harness the obvious talent that they have and remove the 'Alexisonfire' copy cat moniker.
I do feel harsh criticizing a band for being unoriginal as it feels like an unfair demand to expect innovation from such a young band who are just trying to create some music. I accept that notion and to a degree I welcome it, but the genre is already waterlogged with bands producing this kind of music from concentrate; it's going to take a band with the ability to create the next flavor that will achieve longevity in my album collection.
Despite these misgivings, it is very positive to see UK talent emerging and this debut album provides plenty of reasons to be positive for the band's future. With a more varied song-writing approach and some thought behind harnessing the energy of their stage show, the follow up release could be an excellent one. I would recommend catching them on tour, as they do really come alive on stage, but sadly on this record they just don't do enough to distinguish themselves from the hundreds of other bands playing this style of music.
6.3
Standout Tracks: "Look Alive", "These Days I Have Nothing"
Isles & Glaciers – The Hearts of Lonely People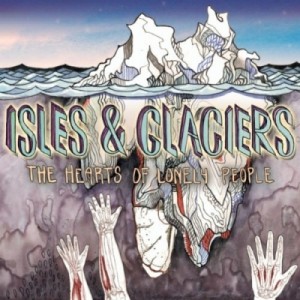 Released: March 9th, 2010
Label: Equal Vision Records
Purchase: iTunes | Amazon
Recently, I had an interesting job offer that involved going overseas. It was an exciting prospect and every ingredient was right: a lovely country, an excellent salary offer, interesting work and a hassle free move. Except, when I arrived at the place, all of these seemingly perfect elements just didn't combine to create the dream move that I was hoping for.

Isles & Glaciers is an 'all-star' band made up of the genre's leading players, making this EP a mouth watering prospect. You could say that if post hardcore was a sport, Isles & Glaciers would be this year's national team. Musically, the band is overflowing with talent, with drumming duty provided by Mike Fuentes (Pierce the Veil), bass by Matt Goddard (Chiodos), guitars by Nick Martin (Underminded) and Brian Southall (The Receiving End of Sirens), plus a good helping of sampling also provided by Brian. There is no abating vocally either; Isles & Glaciers features three of the most distinctive vocalists in the genre: Jonny Craig (Emarosa), Vic Fuentes (Pierce the Veil) and Craig Owens (formerly of Chiodos).
All of these elements combined seemed, on paper, to be something I would instantly fall in love with. However, as with my trip, once I paid the EP a visit, I was left under-whelmed and disappointed by the time it reached the end. The EP moves along at a swift rate, with basic guitar parts accentuated by fast-paced drumming, tinged with electronic effects. The vocal duties are distributed evenly between the three singers who each take it in turns to perform a couple of lines before turning the spotlight over to another, in a continuous cycle.
Thus we arrive at my main gripe. Putting aside my personal distaste for Craig Owens' vocals, I find it mystifying that three such highly regarded singers partake in this vocal relay throughout the EP, continually passing the baton to the next person without ever attempting to create harmonies with each other instead. It's not until stand-out track 'Viola Lion' that an attempt is made to introduce some harmony; harmony that the previous five tracks had been screaming out for.
In the past, bands such as The Receiving End of Sirens, Alexisonfire and Conditions have given us excellent examples of how three diverse vocals can harmonize together to create superb melody and whilst I was fully expecting this EP to be another glowing example, it is tragically lacking any such accolade. Instead, it feels as though the vocalists wrote and performed their sections in complete isolation from each other, and whilst that may have been practical for the performers, it is a tragic waste of ability and opportunity for the listeners.
What compounds the problem is that the band have clearly identified the vocalists to be the key selling point of this record, so when the vocals fail to inspire, there is very little in terms of musical quality to rescue things. The music is simply a back-drop to allow the headline names to show what they can do. We are left with overly used electronic effects (which at times makes the acoustic drumming inaudible), unmemorable guitar parts and very little attempt at creating interesting songs.
The most frustrating part of all is that 'Viola Lion' is a fantastic track and demonstrates just how good this EP could have been if the band had collectively contributed to creating something with depth and coherence. As it is though, the musicians of the band have been relegated to the background in the hope that a few big name singers can carry off a series of songs without really needing to think too hard about the composition. Without the advantage of these 'brand names' to give the band an image, this EP would not last long as there simply isn't enough quality in the songs to carry it.
In the end, I declined the job opportunity. Although there were many carrots dangled in front of me, they were never going to amount to a meal. There were a number of individual incentives that were persuasive but in the end, it was the very foundation of the deal that proved to be the downfall: I didn't like the city itself. The Hearts of Lonely People has been constructed using the incentive of many extremely talented and capable individuals, but the foundation upon which every successful record is built is the quality of the songs and sadly, this EP falls short. Synergies do not arise by throwing together multiple individually attractive elements and hoping that something magical happens. My recent personal adventure, and this EP, are clear examples of this.
5.5
Standout Track: "Viola Lion"
The Bled – Heat Fetish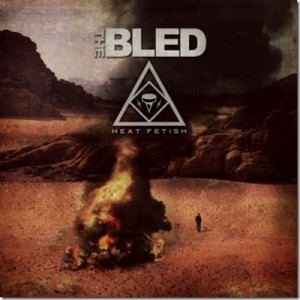 Released: March 2nd, 2010
Label: Rise Records
Purchase: iTunes | Amazon
The past year has been tumultuous for The Bled. They were on the brink of calling it a day due to the economic recession putting an ever increasing strain on the financial stability of the band. As a result, all but two members from the unit that brought us Silent Treatment in 2007 remained.
Fortunately, the two remaining members were guitarist and chief songwriter Jeremy, and unmistakable frontman/vocalist James. As such, The Bled have not lost their signature sound and with the inclusion of a whole new line-up, I'd argue that Heat Fetish brings a whole new level of energy and urgency to the band that has not been heard since the debut Pass the Flask.
One of my main concerns was how the band would deal with the departure of drummer Mike Pedicone, whose skills behind the kit throughout The Bled's discography have been superb. That fear diminished right after the opening track. I'm not sure where they find these drummers, but new sticksman Josh Skibar not only comfortably fills Pedicone's shoes but also brings his own frantic style to proceedings, which helps make this album an extremely impressive achievement.
Musically, Heat Fetish delivers the staple sound that we've come to know and love with The Bled: heavy, down-tuned and aggressive songs with screamed vocals, breakdowns and spasmodic rhythms that traverse through various timings. If you turn your nose up at any of the above, then go no further with this band as it isn't for you. If however, that sounds like your cup of tea, then trust me you will want to put the kettle on and make yourself a huge pot of it.
As ever, I find myself yet again in awe of James Munoz. There are very few vocalists in this genre that can hold a candle to him and each time I feel that he can't progress any further with his voice, I'm proven wrong once more. One of my biggest gripes with the hardcore genre is the inability of screamed vocalists to emit any range from their vocals. Most screamers have a guttural shout, or a higher pitched yell, that they stick to throughout their songs, making every song sound repetitive and all too familiar. James has an uncanny ability to surprise you with his vocals, moving from low to high, to shout to clean in any given song. This is what makes The Bled's music a treat to listen to from one album to the next: you just never know what to expect.
The band tried to mix up their heavy elements with a more melodic edge on sophomore album Found in the Flood but with very mixed results. Scattered throughout this album are fine examples of how the band have developed this side of their music without compromising on the quality. "Meet Me in the Bone Orchard" is a prime example, where they have successfully integrated face-tearing aggression with haunting melody that helps to make Heat Fetish stand-alone as a complete package.
I've grown to appreciate every album The Bled have put out, but I've not always felt like they've achieved a faultless album since the release of their debut Pass the Flask. Something has always stood in the way; be it the production, or the missed attempts at being creative. The last couple of albums have been good, but too precise and polished to feel natural.
8.4
Standout Tracks: "Meet Me in the Bone Orchard", "Crowbait", "Smoke Breaks"