Fearless Records
has just announced the latest installment in their widely received "Punk Goes…" series,
Punk Goes Christmas
. The upcoming compilation will be released November 5th, and features bands from pop-punk giants
New Found Glory
to metalcore up -and-comers
Issues
with their take on classic Christmas jams such as
This Christmas
, as well as unreleased holiday themed tracks. Check out the full track list below!
1. New Found Glory – "Nothing For Christmas"
2. All Time Low – "Fool's Holiday"
3. Real Friends – "I Had A Heart"
4. Man Overboard – "Father Christmas"
5. The Summer Set – "This Christmas"
6. Crown The Empire – "There Will Be No Christmas"
7. Yellowcard – "Christmas Lights"
8. Issues – "Merry Christmas, Happy Holidays"
9. Jason Lancaster (of Go Radio) – "All I Can Give You"
10. Set It Off – "This Christmas Day (I'll Burn It To The Ground)"
11. The Ready Set – "I Don't Wanna Spend Another Christmas Without You"
12. William Beckett – "Do You Hear What I Hear?"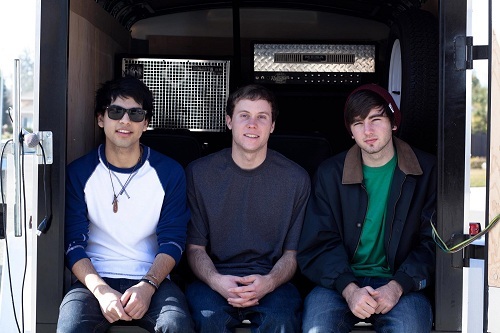 Recently, it has become increasingly common for the younger generation of musicians to make a name for themselves before they even break the age of 20. About a week ago, I had a chance to talk to Chris of
Vegas Is North
, who "started the band back in [his] junior year of high school," and has kept it going ever since, even adding two seventeen year olds to the fold as well.
Can you tell me how long you guys have played music for?
I (Chris) have been playing guitar ever since I was in the sixth grade. I'm nineteen right now. I started the band back in my junior year of high school.
Does being in a band at such a young age affect your career in any way?
It absolutely does, luckily were learning the rights and wrongs at a younger age rather then us being older with more burdens. Our bassist and drummer are both seventeen.
With the many pop-punk bands that currently exist in the scene, how does Vegas Is North stand out?
We are pushing our genre out a little bit more now. We've been in the pop-punk scene for awhile now we are expanding our horizons to see where this will take us.
You recently released your new EP I'll Sleep When I'm Dead. What makes it different from your previously released self-titled EP?
I believe it has a huge difference. Lyrical and musically. I feel I started to learn to write better lyrics and just be a better musician all around.
What was the writing process like for the new EP?
It was me in my room just pouring my heart on to these songs.
Are there any artists that were a big influence on the music in I'll Sleep When I'm Dead?
I was listening to a lot of earlier 2000 pop-punk bands, like New Found Glory and Blink-182 at the time. They played a huge influence on this EP.
"Parking Lot Kings" has some great lines, what inspired the lyrics on that song?
Honestly just being stuck in a point in your life where you feel like your not going anywhere. Where you just feel stuck.
You guys recently put-out a music video for "Parking Lot Kings", is this your first music video? If so, what was the experience like?
Yes we did! Which you can watch on Youtube right now! It was awesome and we feel a lot more legit as a band. We're moving fast, so expect to see a lot of us in the future.
Are you planning to go on any tours to support the new EP?
We are currently working on a tour right now you can stay updated with us on our social websites.
You guys recently announced that you were releasing your single "Savior" on the 17th. What can your fans expect from the new song?
A new us.
Other than "Savior", can we expect to hear any new material in the near future?
We have been writing non stop, so there will be tons of new music in the future! Stay tuned with us on our Facebook, Twitter, and Youtube!