Chiddy Bang – The Preview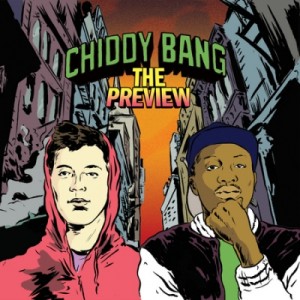 Released: October 12, 2010
Label: EMI
Purchase: iTunes | Insound | Amazon
The Preview is exactly what it is packaged as: a preview. Standing as a placeholder for the duo's upcoming debut album The Swelly Life, The Preview is an eight-track album: a perfect sampler of the group's wide musical palette. For someone who may be new to the group's music, this record is a perfect starting point, documenting their meteoric rise to fame.
"The main purpose of this release is to give our fans some new music while we finish recording our debut album, The Swelly Life. It's called The Preview because it gives listeners a glimpse of what's to come onSwelly," says Xaphoon Jones.
The Preview features three tracks from the duo's first mixtape, The Swelly Express, which was highly received and led to the group's record deal with EMI. "Truth" features a sample from Passion Pit's "Better Things", "Opposite Of Adults" features MGMT's "Kids", and "All Things Go" samples Sufjan Stevens's "Chicago".
"Nothing On We" combines Chiddy's clever, yet contemplative rhymes with the signature electronic beat from Xaphoon. Chiddy's singing in the hook, oddly, slightly resembles Akon's "Sorry, Blame It On Me" and features a shout out to Kanye West and his G.O.O.D Music record label with the line "And it isn't what it seems / So just like Yeezy, we steady getting out our dreams / That's G.O.O.D."
Seventh track "Bad Day" samples the heartfelt Darwin Deez and while Chiddy's verses are new, the remix itself is not. Xaphoon previously remixed the track on The Xaphoon Jones Mixtape Vol. 1, his first mixtape release. Serving as a perfect example of Xaphoon's production talents, the synthesizer buzzing in the background is a great addition and keeps the track bouncing along at a fast pace. Chiddy's rapping talents are also highlighted when clever lines such as "Happiness is a warm gun / Living fully loaded" are juxtaposed with somber reflections on how success has changed some of his relationships.
The record, much like the rest of the group's work, is a fun, carefree listening experience. It should be taken into account that The Preview should be listened to and judged not as an album, but as a sampler of the band's upcoming debut release. For this very reason, this review is not as thorough and has no actual score.The Preview serves as a perfect preview (how ironic, huh?) to the duo's 2011 release and should be enough to tide old fans over, as well as win over new ones.
Positive
Standout Tracks: "Opposite of Adults", "Bad Day (feat. Darwin Deez)"
You might also like: