Pop punk rockers All Time Low have been at the forefront of their scene since signing with Hopeless Records while still in high school, releasing three albums with the label. The band is currently gearing up for the release of their fourth studio album Dirty Work, which will also be the band's debut with Interscope Records, set to be released on June 7th in the US and on June 6th in the UK. Lead vocalist Alex Gaskarth took some time out of his busy schedule to talk with me about their new album and touring experiences. You can read the full interview below.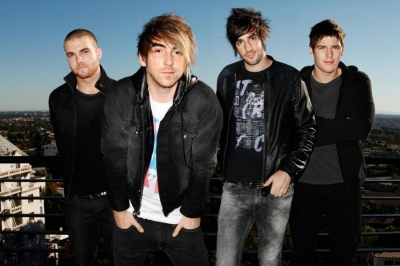 LitS: First off, could you state your name and what you do in All Time Low?
Alex Gaskarth and I sing and play guitar.
LitS: You guys are currently headlining a tour with Yellowcard, The Summer Set and Hey Monday as openers. How has this tour been?
We just finished up the tour and it was probably the best touring experience I've ever had. Our band grew up listening to Yellowcard so to get the chance to do a full tour with them was awesome. Hey Monday are good friends of ours and we've wanted to tour with The Summer Set for a while so we're glad we could take them out.  Crowds were amazing on the tour each and every night.
LitS: Your new album, Dirty Work, will be released in June of this year. Could you describe the new album for us?
I think it represents a real growth for us and it's something we're all extremely proud of. We didn't do a 180 and make a completely different CD. It still sounds like All Time Low and I think our fans will really be into it. Hopefully it's just a better All Time Low than you've ever heard before.
LitS: You guys told MTV that the title represents the ups-and-downs of touring as musicians. Could you elaborate on this idea and what it means in terms of the album and what it represents?
I think when you tour as much as we do and you're away from your family and friends for long stretches of time it's easy to get disconnected from them. You definitely live in your own reality being on tour where the schedule and the lifestyle is so much different from the norm. It's easy to get caught up and do things that can negatively effect people you care about. While Nothing Personal was kind of a tongue cheek middle finger, Dirty Work is a bit more introspective and looks at the consequences of those actions.
LitS: This will be your first release with a major label. How has this move been, especially after leaving Hopeless?
I have to say it's been really smooth. I think it helped that we signed to Interscope during the last CD cycle so we've gotten to know everyone on our team very well and they've gotten to know us. So far they've been super supportive and allowed us to do what we wanted to do. For us it's pretty much been business as usual.
LitS: I understand that the new record was pushed back by your label for restructuring. Are you satisfied with how the track list stands now?
Yeah I think some of the delays actually ended up helping us because we got a chance to live with the record and make sure it was what we wanted it to be. I know it's felt like forever waiting for it to come out but we're getting close.
LitS: The album's lead single "I Feel Like Dancin'" was co-written by Weezer's Rivers Cuomo. How did this come about?
I've been a big Weezer fan for a while and our manager asked me if who I wanted to write with and Rivers was at the top of the list. He hit up their manager and he was into doing it. Jack and I went to his house and it was super chill.
LitS: Will there be any other singles before the album's release?
I think you may get to hear another track called "Do You Want Me (Dead)?" but "Dancin'" is going to be the only official "single" prior to release.
LitS: What are your plans for after the new album is released?
Tour, Tour, Tour. This band has always toured alot and that's not going to change at all. Right after to release we're heading to Europe and the UK for a month of festivals then back to the US and Canada for a headline run. We'll also be hitting Australia and Japan in the early fall before coming back to the states.
LitS: It has been eight years since you guys first formed. What are your thoughts on the change of the industry and the scene during this time over the past few years?
It's been very interesting watching the way technology has evolved and the impact it's had on the music industry. To watch the way that unsigned bands can get their music out to fans worldwide is amazing. On the other side the prevalence of illegal downloading has changed the way record companies and bands have to approach their business models.
LitS: What has been the most important thing you have learned as a musician?

As simple as it sounds to just be true to yourself and to your fanbase. It's not just about the band but also the fans who support that band and you need to be very aware of that. For this band especially it's very much a team.
LitS: Thank you for taking the time to talk to us. Do you have anything else to add?
Just thanks for all of the support and don't forget to pick up Dirty Work on June 7th 😉
You might also like: