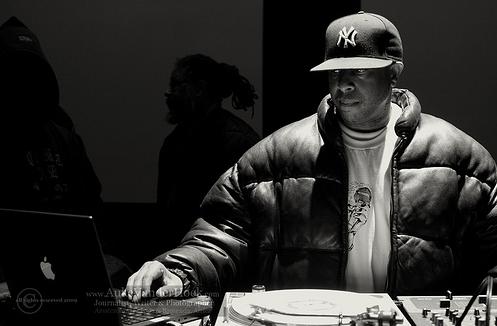 This year's 2011 BET Hip Hop Awards made headlines for its impressive lineup of rap cyphers, featuring big names like
Eminem
,
Slaughterhouse
,
Rick Ross
,
Kendrick Lamar
, and much more. But one name that didn't make the final cut was teenage pop superstar
Justin Bieber
.
DJ Premier, the man behind the turntables who made a name for himself as the production half of the critically-acclaimed Gang Starr, announced on air today that he banned Bieber from participating in the cypher. Breaking down the process for joining the cypher, Preemo said, "They'll give me the list [of artists]. We have arguments upon arguments. Shout to [President of Music Programming and Specials] Stephen Hill. Shout to [BET producer-writer] Jesse Collins. Believe me, we be arguing over who should be on it and all of that. Lots of big fights over the phone."
He then went on to talk about Bieber's request to join, stating, "I was like, 'Yo, as long as he got a dope rhyme, let him spit.' But then we heard, 'Oh, he wants Luda to write his rhyme.' I was like, 'Oh no, no, no, no. If you ain't writing your own rhyme, you can't do it.' So Justin, you gotta take a backseat. Write your own rhymes, honey. You gotta call him honey on that one."
Maybe next year, Shawty Mayne.
[You can listen to a recording of Premier's talk over at Rap Radar. If you missed the cyphers, you can watch all of them right here.]
You might also like: