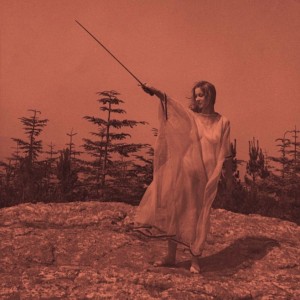 On February 5th,
Unknown Mortal Orchestra
will be releasing their sophomore record 
II. 
Unknown Mortal Orchestra is a three piece American/New Zealand indie rock band formed by Ruban Nielson in 2010.  With the release of their first track "Ffunny Ffriends" they created mass amounts of buzz throughout the indie scene, everyone wanted to know who was behind this lo-fi/psychedelic single.  
II
 is a wonderfully breezy, psychedelic record. It's full of poppy guitar riffs that blend well with the soft and mysterious falsetto vocals. Tracks like "The Opposite Afternoon" and "From the Sun" are some of my favorites and relate to some of
R. Stevie  Moore's
work, but with a more well rounded sound. The record flows very nicely and is full of tracks that don't disappoint.
Their new record II, is available for streaming exclusively through NPR and can be preordered from their website. They begin touring February 2nd, all of their February dates are available below, the dates to the rest of their tour are also available on their website.
Tour Dates:
Feb  02 – Zepp Divercity (Tokyo, Japan)
Feb 06 – Trix Club (Antwerp, Belgium)
Feb 07 – Paradiso (Amsterdam, Netherlands)
Feb 08 – Prince Charles (Berlin, Germany)
Feb 13 – Great American Music Hall (San Francisco, CA)
Feb 14 – Constellation Room (Santa Ana, CA)
Feb 15 – Echoplex (Los Angeles, CA)
Feb 16 – Beauty Bar (Las Vegas, NV)
Feb 18 – Lowbrow Palace (El Paso, TX)
Feb 19 – The Korova (San Antonio, TX)
Feb 20 – The Mohawk (Austin, TX)
Feb 21 – Fitzgerald's (Houston, TX)
Feb 22 – One Eyed Jacks (New Orleans, LA)
Feb 23 – 529 (Atlanta, GA)
Feb 27 – Rock & Roll Hotel (Washington, DC)
Feb 28 – Bowery Ballroom (New York, NY)
Mar 01 – First Unitarian Church (Phildelphia, PA)
Ariel Pink's Haunted Graffiti, Kurt Vile, R. Stevie Moore (with members of MGMT) and more artists recently recorded a compilation album entitled Recorded for Japan to aid the relief effort in Japan. A hundred percent of the proceeds will be donated directly to the ongoing relief and reconstruction, with the money going to the Japanese Red Cross.
The compilation will be available on August 4 and is digital-only. You can purchase it here.
Recorded for Japan Track Listing:
01. Beige – Focus *
02. R. Stevie Moore (feat. Members of MGMT) – You Are Too Far From Me *
03. K. Heasley – Belief Match
04. Ice Choir – Two Rings (Hard Mix)
05. Chairlift – The Chase (Propaganda cover)
06. Pablo Picasso – Whip *
07. Kurt Vile – Been Searchin'
08. Kuroma – Running People
09. Acrylics – Sparrow Song *
10. Violens – When To Let Go *
11. Erika Spring – 6 More Weeks (Vacation Version) *
12. Patrick Cleandenim – In My Baby's Eyes (After Dark Version) *
13. Regal Degal – Excuse Me Who Am I Talking To? *
14. Ariel Pink's Haunted Graffiti – Thespian City (Live)
*in-studio performance