Das Racist – Relax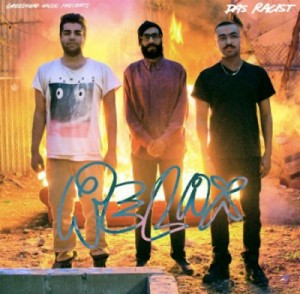 Released: September 13, 2011
Label: Greedhead
Purchase: iTunes | Insound | Amazon
"I'm f*cking great at rapping," Das Racist frontman Himanshu Suri boasts with quite a bit of gusto on lead single "Michael Jackson". If these words were uttered on past mixtapes/albums Shut Up, Dude or Sit Down, Man, there would be little to object to. But since they entered our ear canals by way of Das Racist's studio debut Relax, more must be said.
For some reason, the rap duo seem to have lost quite a bit of the wittiness and charm that made their first two efforts stand out so much. For the most part, Heems unfortunately sounds quite sluggish with his rhymes, failing to deliver quotable after quotable like on Sit Down, Man's "amazing", "hahahaha jk?", and "rapping 2 u". Instead he chooses to rattle off seemingly incoherent thoughts in a raspy, grungy-sounding voice, leaving us wondering what exactly happened to the sharpness he previously displayed. His partner and long-time friend, Kool AD (aka Victor Vazquez), on the other hand, sounds much the same and provides ample reminders of what made us fall in love with Das Racist in the first place.
The social commentary is still there, the glitchy beats are still there, and the genius is still there. The magic, however, is gone. Everything is still seemingly intact though, so what makes Relax sound so detached and uninspired compared to the rest of their catalogue?  Who knows? Heems, Kool AD, and Dapwell probably don't even know.
Perhaps it's a change of focus. As Heems says on what is perhaps his best verse on the album (on opening track "Relax"), "Juvenile shit / I ain't really tryna rap about / I don't remember from b-b-ba b-blackin' out / These days, I'm mostly focused on my bank account / I ain't backin' out until I own a bank to brag about." Making music that sells is certainly different from making music that shines.
Or maybe it's the fact that Das Racist have already, well, 'made it.' The hook for album standout "Power" tackles this issue head on: "It's too easy. Even if I told you about it, you probably wouldn't even believe me." Bursting onto the scene from literally nowhere with the ridiculously infectious and utterly confusing "Combination Pizza Hut and Taco Bell" and then securing collaborations with the likes of Diplo, Boi-1da, Roc Marciano, and El-P on their second release. And everything was released to critical acclaim. It kind of reads like a script, one where we got to watch the trio hone their art while enjoying huge amounts of success along the way. Perhaps things were way too easy.
Fortunately for us, however, Das Racist don't stray too far away from their fundamental skeleton. Play the record for anyone familiar with the group and it'll be clear that it is indeed a Das Racist record. The repetitiveness and non-sequiturs on "Michael Jackson", the danciness of "Booty In The Air", the posse-cut "Power", the unabashed self-referencing on "Selena" – everything is still distinctly Das Racist. The only difference is that altogether the whole record feels less densely packed with references and much less technically satisfying. Even production by Yeasayer's Anand Wilder and Vampire Weekend's Rostam Batmanglij fail to make a big impact – without looking at the credits, it's hard to even tell what songs they worked on ("Middle of the Cake" and "The Trick" respectively).
There's no need to take these reviews seriously, though. A group like Das Racist obviously isn't out searching for approval from critics; all they need to do is take everything in stride and just relax. Then, finally, they can come back when they're ready to put together a more inspired effort.
We'll be ready.
6.6
Standout Tracks: "Michael Jackson" and "Power (feat. Danny Brown & Despot)"
You might also like: