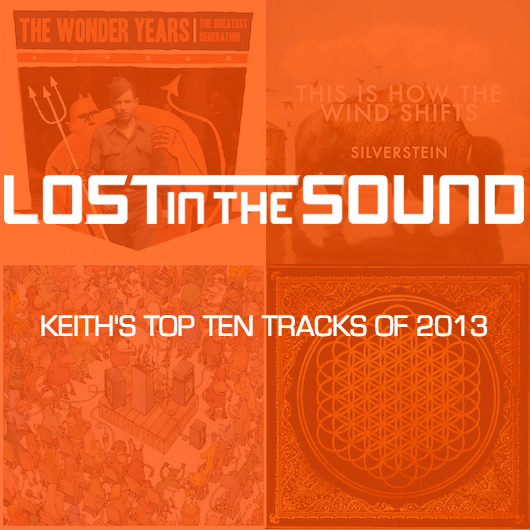 Over the past year, Lost In The Sound has moved in a new direction covering alternative genres and choosing to add focus on lesser known artists. With this in mind however we also continued to cover prominent outfits that we enjoy listening to and supporting. We added punk, metalcore, folk and ambient to our editorial genres to give us a more diverse array allowing us to promote more of our favorite bands and solo projects. With all of these changes we thought it would be much more reasonable to compile ten tracks from each of us reflecting on our favourites from the last twelve months. So, this year, LITS presents fifty tracks in five separate top ten lists. Our third in the series is from LITS contributor and
Liger Tea Party
 frontman,
Keith Yeo
.
10. So Long Soldier – All Time Low from Don't Panic: It's Longer Now!
In October, pop-punk giants All Time Low re-released their 2012 record Don't Panic, entitled Don't Panic: It's Longer Now! (haha penis joke??) promising four brand new songs to the original track list (along with the obligatory acoustic versions of the bigger songs on the album, of course). While I definitely didn't love the new songs (A Love Like War featuring Pierce The Veil frontman Vic Fuentes felt like a waste of a great collaboration with a ton of potential), the re-release pushed me to revisit the 12 songs ATL released in 2012, and, damn, So Long Soldier was a good fucking song. Alex Gaskarth tells the story of his journey from being a "little boy from just outside of London" to becoming the "voice of a generation" with his powerful vocals, highlighted by aggressive guitar riffs played over Rian Dawson's lightning speed drumming. So Long Soldier is an awesome throwback to the band's early punk roots, and gives long time fans incredible amounts of nostalgia which is something that I'll always appreciate from any band as big as All Time Low. (Also that guitar riff, goddamn!)
9. Peace Sign – Lights from Siberia (Acoustic)
Siberia (Acoustic) is pretty much exactly what the name suggests, an acoustic reinvention of Lights' second album Siberia. The acoustic album was a really interesting take on the synth pop (and occasional dubstep) flavor of the original. The track Peace Sign features fellow canadian singer, Coeur De Pirate, who contributes her voice to half the song… IN FRENCH. Safe to say it took me by surprise, the french translation of the original lyrics give the track an interesting spin, making it much more than a plain, boring "acousticyfied" rendition. Additionally, (after a quick wikipedia check) I feel that it was a sick way to include the francophone from Montreal who is credited with "bringing la chanson française to a whole new generation of Quebec youth". Peace Sign (Acoustic) is a great, mellow spin on the more upbeat original (which I also love), dishing out a more intimate listening experience with a finger plucked acoustic guitar and small touches of orchestral strings. And besides, french lyrics make everything at least 20% better.
8. Right Back At It Again – A Day To Remember from Common Courtesy
It would be a bit of an understatement to say that A Day To Remember's latest album was highly anticipated. After a three year wait filled with legal battles and huge delays in release dates, Common Courtesy was self-released by the band. Right Back At It Again was the second single released off the album and is probably one of my favorite tracks off the record. Filled with catchy hooks and heavy breakdowns, the song isn't the most creatively experimental thing the band has done. But after a three year wait, the typical pop-punk/metalcore combo song is just what I wanted from A Day To Remember. Besides, how sick was that "BRACE FOR IMPACT" right before that final breakdown? (Answer: really fucking sick!!!)
7. Clairvoyant – The Story So Far from TSSF vs STYG Split EP
Read my review of the track here! 

6. Dead – Real Friends from Put Yourself Back Together – EP
Real Friends is great pop-punk band that I, unfortunately, only got around to checking out this year. Their EP Put Yourself Back Together was released in June. With 7 solid tracks, I found Dead to be my favorite; and great example of Dan Lambton's extremely honest, albeit straightforward lyrics and his raw, heartfelt delivery. Also, was it just me that got majorly hyped when the the last few lines came in?
5. Atonement – Georgia Maq from Friends & Bowler's Run – EP
One of the coolest things about working at Lost In The Sound is the awesome music that gets recommended to me from the other writers. Shoutouts to our editor Harri Gibson for introducing me to Georgia Maq, an acoustic singer-songwriter from Melbourne, Australia. I fell in love with the her EP at first listen, the angst-filled track Atonement being a favorite. Some of my favorite lyrics from the song include, "All my fucking rhymes are bad, / and my only good song is about my Dad" and "My name's Georgia Maq, / and I have to learn to be comfortable with that / because I am all I have." Georgia's songs are simple, straightforward, incredibly witty and just overall a good time.
4. The Robot With Human Hair Pt. 4 – Dance Gavin Dance from Acceptance Speech
The Robot With Human Hair returns for the fourth time in Dance Gavin Dance's new album Acceptance Speech. The band has seen its fair share of lineup changes and three different vocalists throughout their lifetime. Acceptance Speech marks the first album of Jonny Craig's replacement, Tillian Pearson. I pretty much love everything this band puts out, but Tillian's unique vocals are just such a good fit for the band, which he shows with this song. The back and forth between Tillian's clean vocals and Jon Mess's screams give me chills every time I listen to it. "I wear my soul on my sleeve at night, SE-SE-SEARCHING FOR SUBSTANCE!!!" Pretty much everything in this album is great, this song just gets a little extra love from me, being the Robot's final appearance before it's death.
3. This Is How and The Wind Shifts – Silverstein from This Is How The Wind Shifts
2013 marks the 13th year for canadian post-hardcore band Silverstein since their formation. Despite being the soundtrack of my angst-ridden middle school existence, the band had unfortunately fallen off my musical radar in recent times. After a recommendation from a friend, I decided to check out their February release This Is How The Wind Shifts, a solid album with great tracks from start to finish. While listening, I came across a fan made youtube video that merged the two tracks that formed the album's title, This Is How and The Wind Shifts and just, holy shit. Alone, the two tracks seem like two interlude tracks, but put together, they formed an entirely new song. The coolest thing about it is, each song lyrically makes sense on it's own, but still remain cohesive when put together, the back and forth between the two tracks a giving it whole new meaning. This Is How The Wind Shifts makes for one hell of an easter egg, giving a whole new level of depth, creativity and craftsmanship to Silverstein's songwriting and sums up the entire concept of duality that the album is built on (each song has a parallel e.g. Arrivals//Departures). If that isn't the best damn example of a what a title track should be, I don't know what is.
2. Can You Feel My Heart – Bring Me The Horizon from Sempiternal
UK metalcore band Bring Me The Horizon really pushed the creative envelope of the genre with their latest album Sempiternal. Can You Feel My Heart is the first track on the record and I was pretty surprised with what I heard. A big booming synth intro and epic ambience in place of down tuned breakdowns over Oliver Sykes' intense screaming. Speaking of, Can You Feel My Heart it's probably the most impressive examples of Sykes' vocal work to date. The frontman shows a newfound diversity in his skill set, from big melodic screaming to, surprisingly, mellow clean singing. The track is also a huge step up lyrically, containing one of my favorite lines ever, "the higher get the lower I'll sink, / I can't drown my demons they know how to swim." Can You Feel My Heart was a great surprise for me and just set an awesome tone for the rest of the album which was in my opinion, one of the best releases of the year.
1. Passing Through A Screen Door – The Wonder Years from The Greatest Generation
This year, we saw the release of the the third and final installment in The Wonder Years' three album trilogy, The Greatest Generation. Passing Through A Screen Door was the first single revealed by the band and honestly is probably one of my favorite songs of all time. The song comes in strong, with vocalist Dan "Soupy" Campbell belting out his honest and heartfelt lyrics at the top of his lungs, declaring his fears and anxiety toward growing up and what society demands how someone should live their life. Soupy's defeated, emotional delivery of the line "Jesus Christ, did I fuck up?" is my favorite moment in my entire music library. The track is half emotional breakdown and and half what can only be described as "FUCK YEAH MOTHERFUCKERS". Passing Through The Screen Door is everything I love about this band and definitely deserves the number 1 spot on my list.
You might also like: