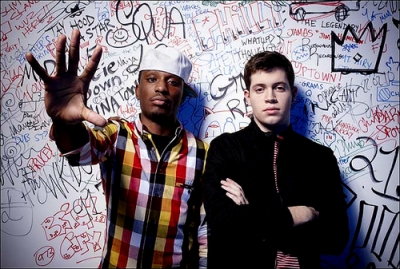 I had the opportunity to chat with Chidera "Chiddy" Anamege and Noah "
Xaphoon Jones
" Beresin, the duo behind rap group 
Chiddy Bang
. We discussed Chiddy's record-breaking freestyle for MTV.com, their new mixtape 
Peanut Butter & Swelly
, their upcoming (and highly anticipated!) debut album 
Breakfast
, and their involvement with Taco Bell's 
Feed The Beat
 Program. They'll be performing a concert in Philly next week for Taco Bell and for those of you who can't make it, you can catch the performance live on the Facebook page.
Check out the full interview below.
Chidera "Chiddy" Anamege: Yo yo yo what's up? How are you doing?
LitS: Good, how are you?
Chiddy: Good, good, just chilling in Orlando, Florida.
Noah "Xaphoon Jones" Beresin: Wassup?
LitS: First off, Chiddy, congratulations on your new world record. Nine hours is an incredibly long time. What was going through your head while you were freestyling?
Chiddy: What was going through my head was like, "Man, I hope I have the endurance to be able to successfully rap for nine hours." After the first hour, I was like man I could do this because I thought I had been rapping for maybe twenty minutes or so, but when I looked at the clock it had already been an hour, hour-fifteen. I was like, oh that went by kind of fast! Time pretty much flew by.
LitS: Why did you guys decide to do the freestyle in the first place?
Noah: I think it was actually our manager's idea, right?
Chiddy: Yeah, it was our manager's idea.
Noah: Our manager came up to Chiddy and was like, "Yo, you're gonna rap for nine hours. It's gonna happen."
Chiddy: And I was just like, "Okay, I mean, I can rap, you know what I'm saying?" I thought about it and was like it's a big achievement, you know, and I was thinking to myself, like I could actually have a Guinness Record. This was something I felt that although it was long and extremely strenuous, I did it. (more…)