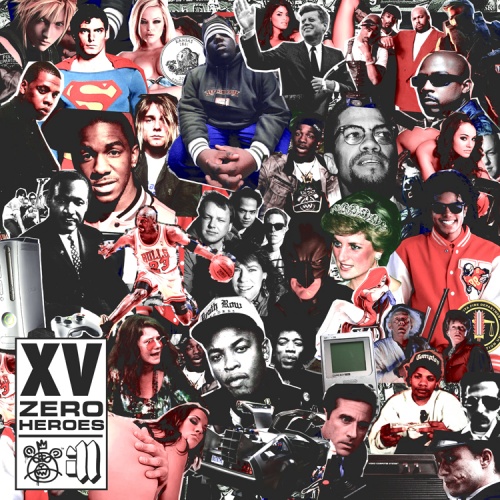 Kansas-based rapper 
XV
 dropped his newest project today, a mixtape titled 
Zero Heroes
. The mixtape features production by 
Just Blaze
, 
J. Cole
, and 
Seven
, as well as guest appearances by 
Pusha T
, 
Donnis
, 
Fall Out Boy
's 
Patrick Stump
and 
Kendrick Lamar
. If you're still not intrigued, let it be known that the Kingdom Hearts theme is sampled on Seven-produced "When We're Done". Download the mixtape for free 
here
.
You can check out the tracklist below. The Warner Bros. signee is scheduled to release his label debut, The Kid With The Green Backpack, sometime this year.
Tracklist:
01. Wichita [Prod. By Just Blaze]
02. Heroes Eventually Die (Interlude)
03. When We're Done [Prod. By Seven]
04. Smallville [Prod. By J. Cole]
05. That's Just Me [Prod. By Swiff D]
06. Awesome (feat. Pusha T) [Prod. By Seven]
07. Pictures On My Wall [Prod. By Seven]
08. Textbook Stuff (feat. Kendrick Lamar) [Prod. By Seven]
09. All For Me (feat. CyHi Da Prynce, Vado & Erin Christine) [Prod. By Omen & Audio BLK]
10. U.F.C. (feat. Kristina Rose) [Prod. By Seven]
11. Foreign Exchange Student [Prod. By Miami Horror]
12. Swervin' [Prod. By Seven]
13. Best Days Of Lives (feat. Donnis) [Prod. By The Awesome Sound]
14. Ending Credits (Interlude)
15. The Last Hero (feat. Patrick Stump) [Prod. By Seven]
You might also like: