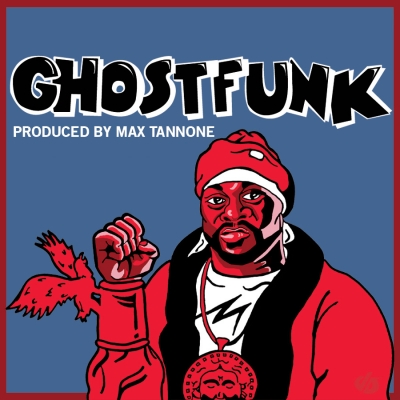 Max Tannone, the producer behind Jaydiohead, Mos Dub, and Dub Kweli, has just released his brand new mashup project. This time, he pairs Wu-Tang Clan's Ghostface Killah up with African funk to create Ghostfunk. Just hours after the album's release, Max took some time to discuss his new project with us. Check it out below.
Download Ghostfunk:
Direct
Mediafire
How did the project come about? Why did you choose to mashup Ghostface Killah and African funk?
I've been wanting to do a project with Ghostface for a while. He is so unique and a great story teller. Last summer I began getting into African funk through a number of different compilations. It hasn't been sampled as much as say soul music or american funk music, but the grooves are just as infections. I thought the two would sound good together, and just went from there. Ghostfunk was a way for me to explore and discover this amazing genre, and hopefully I can turn others onto something interesting and fun.
How did you go about pairing Ghostface's verses with Afrofunk songs? Was it a natural thing when listening or did you experiment a lot?
A lot of experimentation. It starts with finding material with a common tempo, but also depends heavily on the nature of the vocals and the backing track. Is it a love song? A song about crime? What is the mood and instrumentation of the African psyche track? Just playing around and then adding my own elements and edits to make it more interesting.
How long did the project take you from start to finish?
About 4 or 5 months of work.
Could you briefly describe the process? What software do you use?
I basically decide what acapella to pair with what backing track, slice the backing track up, then build it back up around the vocals, making edits and adding elements as I go. I use FL Studio and Adobe Audition.
Which song is your favorite? What does that song mean to you personally?
I really like track 4, "The Same Girl". Ghost seems like a really soulful dude, and he writes great love songs. He sings a little bit in this track, which is awesome. Its an easy song to relate to. Everyone has been wronged by a significant other at some point, right? Ghost lays it all out there.
How do you give your mashups a unique, personal touch?
Nice of you to say they do, so thanks. I try to start with an interesting concept, and go from there. Beyond that, I'm not sure. I like it when people think something is a little strange, but give it a chance and eventually come around to it. Most of my favorite albums give me a similar reaction.
What's your favorite Ghostface song?
Hard to say. Maybe "Holla" from the Pretty Toney album. He rhymes straight over The Delfonics "La-La Means I Love You". I love it. I don't know too many artists that would do that. I remember hearing my parents play that song when I was younger. My mom is really into Motown and doo-wop. Maybe that's why I think its so fresh.
What did you think about Ghostface's new album, Apollo Kids? I noticed that none of the verses were taken from this album.
I dig it. It's classic Ghostface. Great production from a bunch of different producers, and as usual, vivid storytelling. I like Ghost because each track is like a movie. I can really visualize what is happening. A great example of a cinematic song is "Run" with Jadakiss. No acapellas from his new album were available, otherwise I might have used something from there.
What's next for you? What do you want to achieve as a producer?
I don't know what the end game is. I'd like to start doing more original stuff, working with artists from the ground up on something. I continue to be inspired by hip-hop and electronic music. As long as I can throw something into the pot, I'm good.
Thanks for taking the time to answer some questions. Do you have anything else to add?
Thanks for checking out the new project. If you are into it, follow me on twitter:http://twitter.com/maxtannone — I post a lot of animated cat .gifs so get ready.
You might also like: