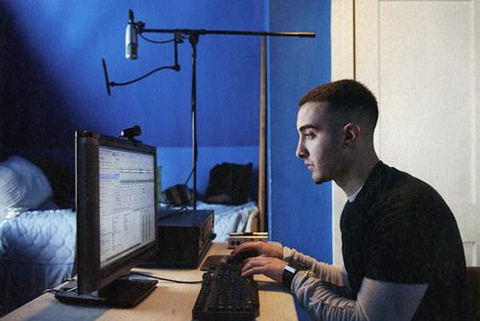 It's rarely the case that a hip-hop producer can single-handedly carry an emcee through a track. But such is the case with New Jersey's Mike Volpe, better known by his stage name
Clams Casino
, who first turned heads after his collaborations with
Soulja Boy
and
Lil B
began making rounds on the Internet. With a keen sense for smooth vocal samples, Clams Casino creates dreamy, ethereal soundscapes that swallow you up and carry you away before the first crash or hi-hat even drops. And the best part of it all? His music works with or without an emcee over top.
That's something you can't find with new-age (pardon the pretentiousness) producers. Sure, T-Minus creates synth-laden beats with a similar loftiness, but the soundscape doesn't even come close. Face it – a track like "She Will" needs Drake and Lil Wayne to fully function.
What may be more impressive is how all of his fantastic beats come together. "I'm God", perhaps the defining song so far in both Clams Casino's and Lil B's careers, takes it roots in Imogen Heap's breathtaking "Just For Now", a song that sounds nothing like "I'm God".
MP3: Imogen Heap – "Just For Now"
MP3: Lil B – "I'm God" (Prod. by Clams Casino)
That same song, "Just For Now", was even been sampled by Clams Casino more than once. ASAP Rocky's "Bass", believe it or not, comes from the very same sample. Originally intended for Lil B, Clams Casino actually reworked the beat after the Based God decided that one part of the song was a bit too fast for him, ultimately resulting in yet another song from the same sample entitled "I'm The Devil". That part was thus taken out, slowed down, and given to Rocky.
MP3: ASAP Rocky – "Bass" (Prod. by Clams Casino)
MP3: Lil B – "I'm The Devil" (Prod. by Clams Casino)
Simply put on your headphones and slip away into the music…
You might also like: